Vote for Aurora Clinics in the Aesthetic Awards 2011!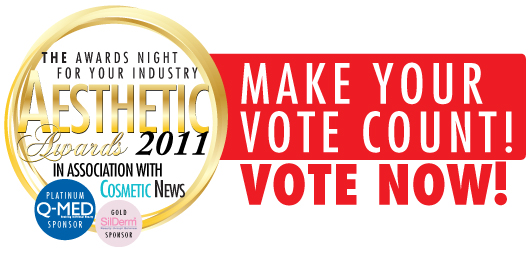 Aurora Clinics are delighted to announce that, out of 4,500 UK clinics, we have been shortlisted for one of the prestigious Aesthetic Awards 2011 (in association with Cosmetic News).
Our nomination category? Best Clinic Website!
The old Aurora Clinics website design won this award in the past, so there is everything at stake in defending our title…but we need your help and support! Voting closes on the 21st October, SO Don't delay vote today!
The http://www.aurora-clinics.co.uk site is the largest, most comprehensive source of plastic and cosmetic surgery information in the UK. Not just a "pretty" clinical sales site, Aurora aims to make researching your cosmetic surgery procedure easy.
We try to make information accessible to everybody through a wide variety of sources on the site – videos, before & after photographs, procedure fact files, social media community links, Live Chat with our experts, a fantastic blog…& much more!
With over 3,500 frequently updated high quality pages, if you think Aurora is the best as well as the biggest, please please visit the Voting Form & take a moment to share your opinion!