Lip implants surge for those seeking a permanently plump pout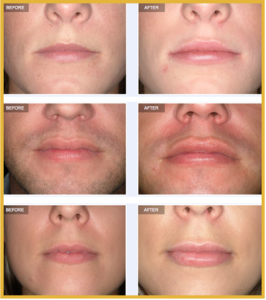 For anyone looking for an easy way to enhance the lips nature gave them, injectable fillers have been a revelation.
Restylane, Juvederm and other hyaluronic acid-based fillers have become the gold standard for adding volume to lips swiftly and safely.
But like a perfect summer, delicious dessert, or good hair day, unfortunately they don''t last. Everybody who has fillers and falls in love with their new lips inevitably has to watch as they slowly deflate.
Which may explain the increasing popularity of lip implants.
The rise of Permalip
While non-surgical treatments have been incredibly popular for the last few years, there are signs that people are starting to choose more permanent beauty fixes – particularly when it comes to their lips.
Permanent lip implants, if you''re not familiar with the idea, probably sound a bit weird. You might have visions of duck-lipped nightmares from a 'plastic surgery gone wrong' feature you''ve seen in a magazine.
But in reality, those people almost certainly had injectable filler –and too much of it –rather than lip implants. The results from lip implants are much more predictable, and often look more natural than fillers (see before and after photos above).
Did you know that aesthetically, the 'perfect' proportions for lips are when the lower lip is one and a half times the size of the upper lip? So if you want the perfect pout, it''s far easier to achieve with lip implants than fillers, as fillers rely completely on the skill of the practitioner to achieve the right size.
So what do Permalip implants look like?
Like breast implants, Permalip implants are made from soft silicone that''s very close to the texture of body fat (which gives breasts and lips their squeezable fullness), so once they''re placed inside the lips they look, feel and move like part of you.
They''re gently tapered to echo the natural shape of the lips, and come in different sizes so you can choose exactly how full you''d like to go from the outset. And though they''re designed to be permanent, the implants are easy to remove and replace, so if you ever decide you''d like to go bigger or smaller, you can.
Even if you choose to remove them altogether, no-one need know you ever had implants as there is no visible scarring. Your lips will just revert to the way they were before surgery.
If you''re a low maintenance kind of gal or guy, and interested in giving your lips a little more volume on a long-term basis with no need for regular top-ups, Permalip is well worth finding out more about.
Several of our surgeons offer the procedure, which is carried out on a See and Treat basis with no overnight stay. If you''d like a informal chat with a surgeon to discuss Permalip, give us a call on 01324 578290 or email mailto:info@aurora-clinics.co.uk. 
Please note: Aurora Clinics no longer offer Permalip. Visit our Skin Clinics website for information on Lip Fillers.