Permalip – the quick and safe treatment for permanently fuller lips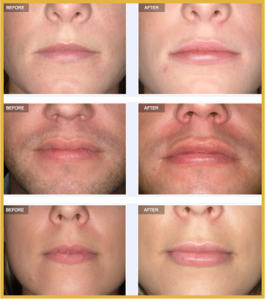 We're sure plenty of folk gaze in the bathroom mirror and wonder how they'd look with fuller lips. (It can't just be us.)
And now increasing numbers of people in the UK, both male and female, are getting proactive about their pouts – and choosing to undergo Permalip surgery.
If you're thinking about lip enhancement for the first time, or looking for longer-lasting results than your usual lip fillers, here's a quick Q&A about lip augmentation with Permalip.
What is Permalip?
A quick and safe surgical procedure using soft silicone implants to enhance thin or uneven lips.
How much does it cost?
From £1,600 per lip or £2,200 for both, which includes all consultations, surgery and aftercare.
Who is Permalip suitable for?
Because it offers a permanent result, the procedure is best for those who'd like fuller lips without needing to come back to a clinic for regular top-ups.
What does the procedure involve?
Lip augmentation is usually carried out under local anaesthetic on a 'See and Treat' basis, with no overnight stay.
The area is numbed, and the implants carefully inserted through tiny incisions concealed in the corners of the mouth. Small absorbable stitches are used, which will naturally fall out by themselves after around a week.
Is it painful?
Many of our patients tell us the Permalip procedure is more comfortable than having injectable lip fillers. After your surgery, you will experience some minor discomfort and tenderness but this usually subsides within a week.
What are the risks?
As with any surgical procedure there are risks, though serious complications are fortunately very rare.
Swelling is something most patients will experience, and in rare cases infection can occur, so it's important to keep the area clean after surgery.
Another rare complication is an allergic reaction to the anaesthetic used, which can cause excessive swelling (as in the case of US reality star Farrah Abraham recently). Again, this is very rare, and will settle down in time.
Will there be scarring?
Scarring is very minimal, as the incisions are just 2-3mm long and tucked into the corners of the mouth where the upper and lower lips meet. It's extremely unlikely that anyone but your surgeon would ever notice.
How long do the results last?
Unlike lip fillers, the results from Permalip are permanent, so there's no need for any further treatment.
What's the recovery period?
In the first week after surgery, you will experience some swelling. Elevating the head and applying cold compresses can be used to bring it down, and you'll receive detailed guidance to help you with this.
After the first week, 90% of the swelling should be gone, and you'll be free to resume all your normal social activities.
Want to find out more about Permalip? Email mailto:info@aurora-clinics.co.uk or call us on 01324 578290 to request a consultation with one of our expert plastic surgeons.  
Please note: Aurora Clinics no longer offer Permalip. Visit our Skin Clinics website for more information on Lip Fillers.