Cosmetic surgery patients urged to 'Think Over Before You Make Over'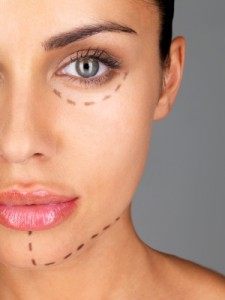 The number of people having cosmetic surgery in the UK increases every year.
But a new study by BAPRAS has revealed that patient awareness isn't keeping pace with the growth of the industry.
Worrying research findings
Earlier this year, UK plastic surgery body BAPRAS conducted a large-scale research study to measure UK attitudes and approaches to cosmetic surgery. Some of their findings were shocking.
Almost a quarter of cosmetic surgery patients in the UK (24%) admitted they made no effort to check their surgeon's credentials.
A fifth (21%) were unaware of the risks of their procedure.
Another fifth (22%) were unclear about the potential outcomes of their surgery.
More than a quarter (27%) had no idea if aftercare was available from their surgeon if anything were to go wrong.
Cosmetic surgery patients 'rushing into surgery'
BAPRAS also found evidence that many cosmetic surgery patients were having surgery without taking enough time to mull it over – with devastating results.
More than half (59%) of people who had surgery within two weeks of their first consultation said they felt less confident about their looks after surgery.
Perhaps unsurprisingly, over half of cosmetic surgery patients (53%) said keeping the price down was a major factor. But BAPRAS discovered that patients choosing their surgeon on the basis of cost were far more likely to have disappointing results or feel less confident afterwards.
The launch of Think Over Before You Make Over

In February, in response to what they call "a worrying lack of consumer awareness about how to choose safe and appropriate cosmetic surgery", BAPRAS launched their new awareness-raising campaign.
'Think Over Before You Make Over' has seen them create a comprehensive information hub on their website for anyone thinking about having cosmetic treatment.
Patients can research procedures, find out key questions to ask their surgeon, read patient stories, download a guide to choosing a surgeon and lots more.
BAPRAS hope the campaign will encourage patients to carry out more thorough research, and help the thousands of cosmetic surgery patients every year who put themselves at risk of receiving bad treatment.
Aurora Clinics on board with BAPRAS
BAPRAS have invited cosmetic clinics to join their campaign, and at Aurora we wholeheartedly endorse the efforts BAPRAS are making to combat this problem.
We're delighted to align ourselves with the campaign, and will keep doing all we can to help with our own patients.
As Aurora's Surgical Director, Adrian Richards, says: "
"Aurora Clinics fully support the new BAPRAS 'Think Over Before You Makeover' campaign. Our surgeons are all members of BAPRAS and fully committed to their codes of conduct. The campaign mirrors our ethos at Aurora Clinics, to offer patients extensive, clear information to make sure they are fully researching their surgery options. This is why we offer free consultations with our surgeons with no obligation or commitment. We provide information in advance of consultations on what to expect, and if a patient is visiting several clinics we have a check sheet to help assist their research process, to ensure they are asking the right questions and getting the information they need to make the right decision for them"."
Aurora Clinics are a UK plastic and cosmetic surgery group with clinics nationwide. All our surgeons are registered with one or more of the highest professional bodies in the country, including BAPRAS and BAAPS. To book a consultation with one of our surgeons, please call us on 01324 578290 or email mailto:info@aurora-clinics.co.uk.