Minor Cosmetic Surgery at Aurora Clinics – a new way to pay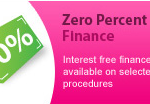 Making the decision to go ahead with cosmetic surgery can be a big step – even if it's for a relatively minor procedure like mole removal or earlobe repair.
So once you've taken the plunge and made up your mind, it can be frustrating having to wait until you have the necessary funds.
To help make cosmetic surgery more affordable, we've always offered credit facilities at Aurora Clinics in the form of the BMI Healthcare card – and now in partnership with First Medical Loans, we've added a new way to spread the cost of minor surgeries – and non-surgical treatments – to make paying as painless as possible.
These new interest-free loans are available for amounts between £500 and £2000, with repayment periods of 6 months or 10 months, depending on your individual circumstances.
No deposit is required, so there's no need for any saving up at all – you can apply for a loan to cover the full cost of your treatment. And to make things even quicker and easier, decisions are usually made the same day, often within hours, which means less waiting time for you.
If you'd like to know more about applying for finance for minor surgery or non-surgical treatments, or indeed cosmetic surgery procedures, visit our zero percent finance page. Alternatively, give us a call on 01324 578290 or send an email to mailto:info@aurora-clinics.co.uk.