Breast Augmentation – what decisions will you need to make?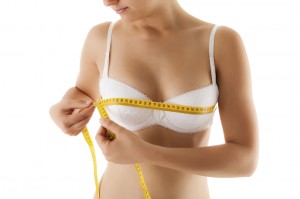 Aurora is now part of The Private Clinic, a nationwide group of clinics with over 35 years of experience specialising in Cosmetic Surgery and Skin and a Trust Pilot 5 star rating. For comprehensive information, FAQs, before and after photos and costs on Breast Augmentation procedures visit The Private Clinic's website. 
Our expert Plastic Surgeon Adrian Richards is the Medical Director for The Private Clinic. Clinics are located in Birmingham, Bristol, Buckinghamshire, Glasgow, London Harley Street, Leeds, Manchester and Northampton.
Thousands of women every year choose to enlarge their breasts, and most are delighted with their results. But to get there, they've had to make several important decisions along the way. 
Breast augmentation has a fair number of variables to consider – and that's on top of all your research to find a great surgeon.
Let's take a look at the main decisions you'll need to make.
Implants or fat transfer?
Think breast enlargement, you probably think implants. But they're not the only option.
Fat transfer can also be used to add volume to the breasts. This involves taking fat from one area of your body where it's in plentiful supply and repositioning it in the breasts.
A good option if you aren't keen on the idea of implants. But on the down side, it leaves more scarring as there's more than one surgery site – and involves a longer recovery period for the same reason.
Most women looking to boost their busts choose breast implants. As technology's moved on, the quality of breast implants has improved dramatically. They've become more durable, with much more flexibility over size and shape, and in our opinion this has made implants the go-to choice for breast augmentation.
Sizing
This is a biggie (no pun intended)! Choosing a size that's appropriate for you is crucial, and will take up a big chunk of the discussion at your breast augmentation consultation. You'll have an idea of the results you'd like, and as long as you can convey that to your surgeon, you can leave the size in CCs up to them.
Be aware that the sizes of implant available to you will depend on your current breast size, your frame and the amount of loose skin or fat in the chest area. Usually, an increase in one or two cup sizes is recommended.
Round or shaped implants?
Round implants are a uniform shape with even projection. Shaped 'teardrop' implants are narrower and longer, with a higher profile toward the bottom of the implant – reflecting the natural slope of a breast.
Round implants are the go-to choice if you have a good bust shape but lack size. You won't need to worry about them rotating to leave you with an irregular shape, and they'll give you a nice full appearance, particularly in the upper pole. So if you're looking to boost your cleavage, round implants are perfect.
Teardrop implants are better if you have a very flat bust and lack shape. They produce very natural results, as they echo the bottom-heavy shape of a real breast. However, there's a small risk of the implants rotating over time to leave you with a misshapen appearance. This can be corrected, but it's something to bear in mind and discuss with your breast augmentation surgeon.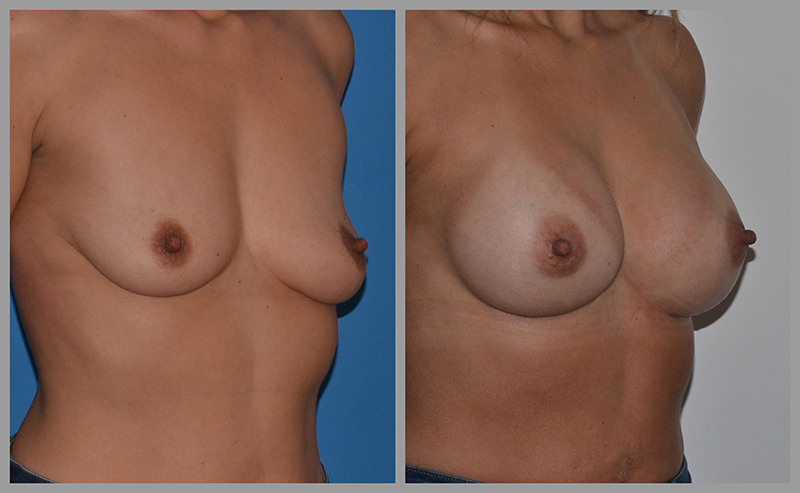 Low or higher profile?
Take two implants of the same CC size, one low profile and one high profile. When you lay them on a flat surface, the low profile implant will be wider and flatter. High profile will be narrower and higher.
You can calculate the best width implant for you by measuring one breast horizontally across your cleavage, and subtracting 1cm from this figure. Then it's a case of deciding on how projected you'd like your breasts to be.
Essentially, if you're looking for a more natural appearance from your breast augmentation surgery, you'll want to stick with low to moderate profile. If you'd prefer a more emphasized look, you'll probably want a higher profile.
If you're not sure, ask your surgeon what they think is the best option for you and – crucially – ask them why. They're your best information resource, so don't be afraid to use them!
Over or under the muscle?
There are two muscles in the chest area. The pectoralis major runs from your armpit over the upper part of the breast, and the serratus anterior wraps around from your back and covers the lower breast.
During the breast augmentation procedure, implants can be placed under both muscles (total sub-muscular), under only the pectoralis major (partial sub-muscular/dual plane), or over both muscles.
Total sub-muscular is considered an old-fashioned technique now and has fallen out of favour. Placing the implant under two muscles makes the implant prone to distortion when the muscles are tensed, which can look very unnatural. (See this video.)
Placing the implants over both muscles avoids this problem, but it relies on having enough natural breast tissue to conceal the shape of the implant. If breast tissue is lacking, it can give the implants a 'bolted-on' look.
The more modern approach to breast augmentation is dual plane, where the implant sits on top of the serratus anterior in the lower breast, but under the pectoralis major in the upper breast. Essentially, the upper half of the implant is covered by the pectoralis muscle, and the lower half, where the breast tissue is usually thicker, is covered by the breast tissue alone.
This technique offers good coverage of the upper pole where it's needed, without causing constriction in the lower pole which can happen when the implant is placed under the serratus muscle as well.
Basically, the right approach depends on the amount of breast tissue you have. And there's a quick check you can do yourself.
Measure 3 or 4cm above your nipple, and pinch the area between your thumb and forefinger. Now move your fingers away and measure the distance between them. If over 3cm, you probably have enough breast tissue to have implants over the muscle. Any less and your implants should go under the muscle to provide extra coverage.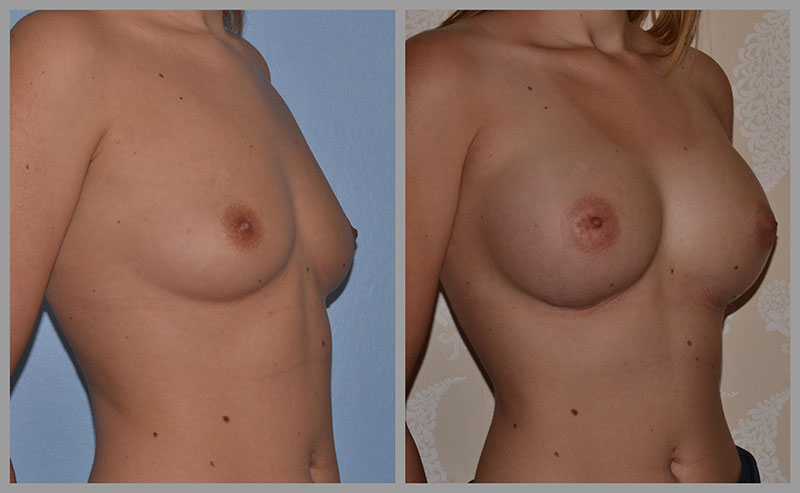 Incision type
There are four main options for inserting implants in breast augmentation – through the navel, armpit, fold underneath the breast, or the areola. Your surgeon may have their own preference, but it's a good idea to know what's possible.
Insertion through the navel requires a very small incision, far from the eventual position of the implants. It's only really suitable for saline implants, as they can be emptied and rolled up before insertion.
Through the armpit has the benefit of a hidden incision, which makes it good for darker skin that tends to heal badly. For that reason, this method is popular in the Far East. But on the negative side, the implant has to be placed completely under the muscle, so it's unsuitable if that isn't your preferred position. It's also more difficult to get exact placement and carries a greater likelihood of bleeding as it's harder to avoid blood vessels when working through a very small incision.
A crescent-shaped incision in the areola is suitable for relatively small implants and on patients with fairly large areolas (there needs to be around 4cm to fit the implant in). The benefit of this approach is it leaves a small, subtle scar.
But by far the most common approach in the UK is through the fold underneath the breast (infra-mammary fold). This gives the surgeon good control when placing the bottom of the implant, which is particularly good for symmetry, and also for correcting overly high infra-mammary folds (as in the case of tuberous breasts).
Phew! Lots to think about. Of course, there's plenty more to consider than this, but we hope we've given you a framework for your exciting journey into breast augmentation. To find out more about the types of implants that we offer view our How to choose your implants blog.

Breast Augmentation at The Private Clinic
Here at The Private Clinic we pride ourselves on providing the most comprehensive cover in the industry including free consultations with our specialist breast surgeons, 24 hour patient helpline, dedicated post-operative care and appointments, three years of all surgical, hospital and nursing care free of charge, Nagor lifetime guarantee on the implant, unique peace of mind warranty of £1000 towards towards surgical costs for 10 years from the date of your operation for breast enlargement.  This is detailed in our comprehensive Breast enlargement Patient Guide.
We are proud to offer the highest quality breast implants, with procedures performed by some of the UK's top consultant plastic surgeons. Our team includes some of the most recognised Breast Surgeons in the UK all of whom are on the specialist register for Plastic Surgery and are members of the British Association of Aesthetic Plastic Surgeons (BAAPS).  They are based in our London, Birmingham, Manchester, Bristol, Leeds, Glasgow, Northampton and Buckinghamshire clinics.
If you would like to discuss breast enlargement options please call 03339 209135 to book a consultation or use our breast implant online contact form.