Do Breast Enlargement injections really work?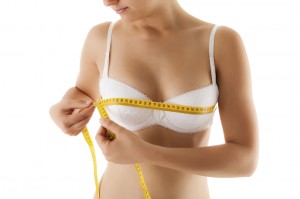 Aurora is now part of The Private Clinic, a nationwide group of clinics with over 35 years of experience specialising in Cosmetic Surgery and Skin and a Trust Pilot 5 star rating. For comprehensive information, before and after photos and costs on Breast Augmentation procedures click here.
The Private Clinic has clinics located in Birmingham, Bristol, Buckinghamshire, Glasgow, London Harley Street, Leeds, Manchester and Northampton.
If you're interested in the ever-evolving world of cosmetic treatments, you're probably familiar with the concept of Breast Enlargement injections.
Last month, US-based plastic surgeon Dr Norman Rowe, who operates in New York, revealed to the world his latest project – a short-term breast augmentation using saline injections, dubbed 'Vacation Breasts'.
The finer details of this quick-fix procedure have not yet been made public, but the Dr previously pioneered a technique called Instabreast, so it seems likely this new procedure will be a variation on the technique.
The approach involves injecting a saline solution into the breasts to give them a temporary volume boost. The whole process takes only around 15-20 minutes, and can be carried out in a one-hour appointment.
So do they work?
Undoubtedly, injecting saline solution into the breasts will provide a temporary boost to the breast size. However, there are issues to address. Firstly, for many women, the effects may be too short-lived to justify the expense.
The results of Instabreast last around 24 hours before the breasts return to their normal size. There are certain situations where this could be useful. For example, women considering breast enlargement surgery may want an insight into how it looks and feels to have larger breasts before going ahead. But effects that last just one day are not going to be suitable for everyone.
The word is that Vacation Breasts will last a little longer – somewhere in the region of 2-3 weeks, hence the name. But this is still a fairly significant investment in something relatively short-lived.
Secondly, though minimally invasive, breast enlargement injections aren't without their risks.
What are the risks of Breast Enlargement injections?
As with any cosmetic procedure, you're relying heavily on the skill of the practitioner. Because injections to the chest region are involved, if the procedure is not performed correctly there is a slim but real chance of puncturing a lung.
Asymmetry is a more likely complication. It's quite possible for the breasts to absorb the saline solution at different rates, leaving them different cup sizes. Being a temporary procedure, this will rectify itself in time as the saline is harmlessly reabsorbed. However, that will be little consolation to women who have paid for the procedure to look good in a holiday bikini!
Other minor risks include bruising, redness and swelling.
All in all, breast enlargement injections will do what they claim and provide a temporary boost to the breasts. But the effects are very short-lived.
They may be suitable if you're curious to see how you'd look with bigger breasts, or you're seeking to boost your cleavage to look knockout in a particular outfit. But for a permanent increase in the size of the breasts, for now at least, breast implants are still the way to go.

The Private Clinic does not offer breast enlargement injections at any of our clinics. At The Private Clinic breast augmentation is performed by some of the UK's top consultant plastic surgeons who have decades of experience.
We provide a 10 year warranty with £1000 towards your surgical costs.
Highly skilled expert Cosmetic surgeons, see our before and after results.
Dedicated post-operative care and appointments with your surgeon and nursing team, including a 24 hour help line.
We offer you a three-year aftercare breast cover.
The Private Clinic covers a lifetime guarantee on your implant.
We have state of the art hospital facilities.
Giving you the best results and patient care is our priority.
Read our patient stories.
View our Breast Augmentation Video guide.
For information on Breast Enlargement, call us to arrange a free consultation with one of our expert surgeons on 0333 920 2471 or use our Breast Augmentation online contact form.