Watch Kirsty's Breast Enlargement video diary
Aurora is now part of The Private Clinic, a nationwide group of clinics with over 35 years of experience specialising in Cosmetic Surgery and Skin and a Trust Pilot 5 star rating. For comprehensive information, before and after photos and costs on Breast Augmentation procedures click here 
Our expert Plastic Surgeon Adrian Richards is the Medical Director for The Private Clinic. Clinics are located in Birmingham, Bristol, Buckinghamshire, Glasgow, London Harley Street, Leeds, Manchester and Northampton.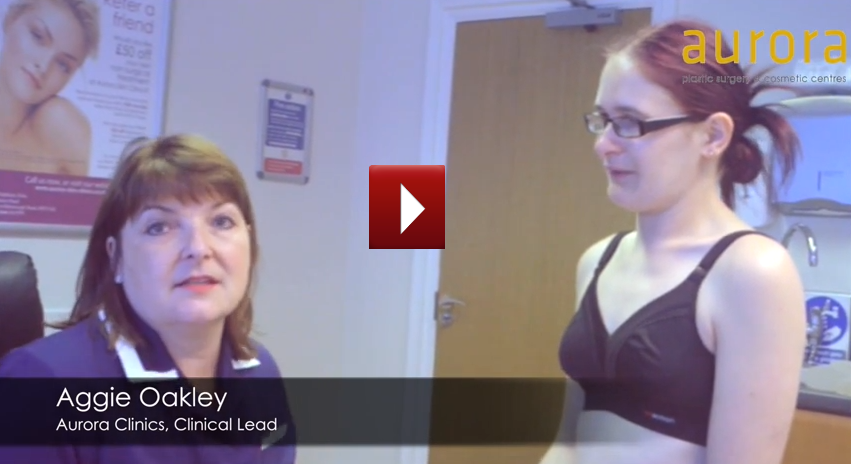 If you're considering breast enlargement but have lots of questions going around in your mind, you're certainly not alone. The prospect of having any surgical procedure is something most people feel a little apprehensive about. It's natural to feel unsure about something that you've never experienced before.
One of the best ways to learn what the experience is really like is to hear from somebody who has done it. While a surgeon or nurse will be able to tell you the finer points about what happens before, during and after breast enlargement surgery, only somebody who has experienced it for themselves can really tell you how it feels.
Breast Enlargement first hand
So we're delighted that one of our patients, Kirsty, who had breast enlargement with Adrian Richards at Aurora Clinics in Northampton  (The Three Shires) decided to film a video diary of her experience.
Kirsty had her procedure on 19th June this year. Her video diary documents the whole process, covering a period of around 2 months. The film includes her sizing appointment, the weeks leading up to her surgery, shortly before and after surgery, and finally her reflections when she is completely recovered.
We have broken the diary down into 12 individual chapters so you can watch it in small chunks whenever's convenient – or if you prefer, you can grab a cup of tea, get comfortable and sit down to watch them all in one. All the videos have been filed into their own playlist.
You can find out more about Breast Enlargement surgery at our clinics by watching our library of breast enlargement information videos and patient testimonials. To book a free no-obligation consultation to speak to one of our surgeons about the procedure, please contact us on 01324 578290 or email info@aurora-clinics.co.uk