My Experience of Breast Enlargement at Aurora Clinics
Reading through the March newsletter, I noticed you were looking for people to report back on their experiences of surgery with Aurora. Here's my story…
I met Mr Richards just before Christmas to discuss the possibility of breast enlargement surgery – something I'd been considering for years, but had been too scared to pursue.
Mr Richards and his team were great – from the first meeting right through to aftercare. They treated me kindly and with respect and made everything as pleasant and lighthearted as possible – even when Mr Richards was running a little late, the ladies at Aurora Clinics in Princes Risborough, chatted to me and tried some new bareEscentuals mineral cosmetics on me! It all helped to calm my nerves and added so much to the experience.
My surgery took place during the awful snow in December, which brought the country to a standstill. One of the nurses who was looking after me walked from Speen to High Wycombe and back to do her job – dedication I could hardly believe!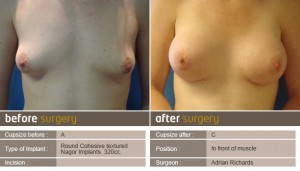 And at my aftercare appointments, the nurses recognised me and were really friendly.
I can't recommend Mr Richards and his team enough, I thought they were amazing and I wouldn't think twice about recommending him.
I would be more than happy for you to use my story to encourage other people to have this surgical procedure.
At 37, I feel like a new woman – the one I've always wanted to be! It's really helped to change my life and I'm happy to do what I can to help others.