PIP Implants: Keep Calm and Carry On (Cautiously)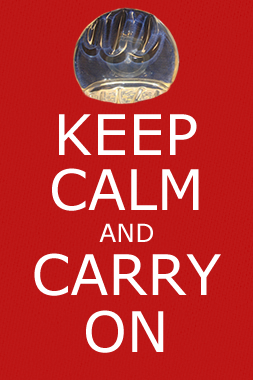 If you woke yesterday to the breaking news that the PIP implants controversy had taken yet another turn, you would be forgiven for feeling somewhat confused.
The debate over PIP (Poly Implant Prothese) Implant safety is not new. The Aurora Clinics Blog reported back in April on the issues surrounding PIP implant safety .
In November, surgical Director and Consultant Surgeon Mr Adrian Richards took to the media to join the debate about PIP validity. And as this latest wave broke, Aurora have been right at the forefront, reassuring our patients that we have never used PIP implants for Aurora Clinics breast surgery.
But what is actually going on? First there was talk of 'exploding implants' but cosmetic surgeon boards BAAPS and BAPRAS took steps to reassure patients that the chances of this were slim.
Next came more alarming claims of cancer linked to the French implant brand and leaking silicone (PIPs are supposedly made using sub-standard industrial level silicone meant for mattresses and capable of causing a host of nasty health problems if leaked into the system).  
Different Countries, Different Perspectives
There is now a seeming clash of countries and cultures. The UK health watchdog (the MHRA) has moved to reassure women that there is 'no need to panic' and PIP implants should not be removed without actual signs of problems. Furthermore, they say there is no 'firm evidence of a link to cancer'.
On the other hand, the French seem to be more actively supporting the cancer claims with the French authorities hotly anticipated to fund the removal of PIP implants amongst French women.
Just How Concerned Should You Be?
It is unsurprising that so many women are feeling unsettled. The words 'exploding', 'cancer' and 'breast implants' all in the same sentence are not something that any lady wants to hear after having breast surgery.
As Aurora Patient Co-ordinator Sarah Benger points out, "There are just too many ifs and buts at the moment: talks of cancer are scaring people".
Aurora Clinics understands that it is difficult to 'not panic' when the advice of one country seems to contrast sharply with your own. But keep in mind the fact that different countries choose to err on the side of caution in different ways: there are already packs of Cosmetic Surgery Insurance brokers trying to urge PIP patients to make claims regarding their implants – often urging perfectly healthy women to imagine symptoms in pursuit of compensation.
The French authorities may be feeling the pressure of a compensation culture even more as the implicated manufacturers actually were French.
Aurora Clinics have never used PIP implants
The good news for patients of Aurora Clinics is that we have never used PIP implants here, so this should straight away set your mind at rest. Nonetheless, for the many women who have had breast implants elsewhere and are now concerned about their situation, we can offer some general advice:
Remember to take what you read online and in the papers with a pinch of salt. This topic has gained a massive amount of publicity and, as with any media frenzy, certain aspects will always become blown a little bit out of proportion or speculation made to sound like definites. Whilst it is always good to be cautious, Aurora Clinics still stand by the fact that there is no need to panic – the MHRA are a very good health watchdog and are adamant that there is no evidence at present to support routine removal of PIP implants. They say that your surgeon or GP is the best person to advise and they are continuing to monitor the situation carefully.
Although PIP implants have received high levels of publicity, the advice concerning ruptured implants or implant discomfort would be the same for any implant type: if you feel concerned, arrange a consultation with the surgeon who originally performed your surgery. If this is not possible, seek advice from another expert surgeon. It is important to remember that many women had PIP implants inserted many years ago. Technology in implants has obviously moved on since then and unfortunately rupture rates are slightly higher amongst the older makes of implants but this is not common. We have dealt with many PIP removal and replacement patients at Aurora. In some cases the implant has ruptured, but not always. Do not panic but if you are at all concerned, it is best to get checked and arrange an ultrasound or treatment if necessary.
PIP implants were withdrawn by the MHRA in 2010, mainly due to concerns over their validity and leakages (the shells were considered more fragile than those used in more modern makes of implant). The company has now gone into liquidation, so there is no danger of women in future having surgery with these types of implants.
For now:
Following UK advice, it is best to proceed using the same degree of caution as you would with any type of implant (particularly the older brands) – if you feel unwell and believe it is linked to your implants, experience implant discomfort or pain or a sudden change of shape, do not hesitate to contact the surgeon who originally performed your surgery.
If you know your brand of implant and they are not PIP, there is really no need for a routine check-up unless you have any particular concerns or breast-related health problems.
If it is not possible to contact your original surgeon, Aurora Clinics would be very happy to advise you and are experts at arranging ultrasounds or implant removal and exchange if necessary. Please contact us on 01324 578290 or mailto:info@aurora-clinics.co.uk.