Rihanna to get Breast Enlargement?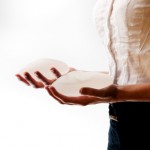 According to US tabloid The National Enquirer, worldwide pop sensation Rihanna is considering undergoing breast enlargement surgery to increase her bust by at least one cup size.
The singer, who is admired worldwide for her figure, is supposedly going to do so at the behest of violent ex Chris Brown, who she split from in 2009 following a physical fight between the two.
Despite the shocking act of aggression, which resulted in a battered and bruised Rihanna, the two have been spending more and more time together over recent weeks, with Rihanna admitting on the Oprah Winfrey Show in the States that she will probably always love him.
Chris Brown has also just split from his girlfriend of one year, Karrueche Tran, apparently because of his new closeness with his famous ex.
Brown is reported to have told Rihanna that she would look "totally hot" with breast implants, although other sources claim that it is not a direct result of these comments that she is considering the breast operation. She has apparently been thinking of having them done for some time and his comments are merely giving her more reason to do so.
Aurora Clinics are an expert team of cosmetic surgeons, offering a wide range of surgeries for the face and body. If you would like information about breast enlargement surgery, or any of our other procedures, contact our team on 01324 578290 or email mailto:info@aurora-clinics.co.uk.