What's the perfect breast implant size?
Aurora is now part of The Private Clinic, a nationwide group of clinics with over 35 years of experience specialising in Cosmetic Surgery and Skin and a Trust Pilot 5 star rating. For comprehensive information, before and after photos and costs on Breast Augmentation procedures please visit The Private Clinic's website.
After the awesome eighties we had the minimal nineties where natural smaller breasts adorned the waif-like frame of models like Kate Moss. Then we swung to the ultra-glam days of the WAGs sporting large perfectly round breasts. But with Victoria Beckham opting for a more understated look these days, what's a girl to do? How large do I go? Do I want teardrop or round?
Firstly, listen to your surgeon; a specialist breast surgeon will have treated hundreds of women of all shapes and sizes and will know pretty quickly what implant type is going to suit you. "But I'm paying" you may think. Yes indeed, any clinic should do their utmost to accommodate your wishes and give you that chest you've always dreamed of. However, in certain cases it is not medically advisable or even safe to go for certain looks. Your current breast size and chest/shoulder width are taken into account. You need to consider your health and wellbeing above all else, your surgeon will know what's going to look and feel right and discuss this with you fully.
Communication is key. Don't let anyone talk you into a size that you are not happy with. Be that friends, family, partners or even the surgeon. Don't be afraid to get a second opinion, have a research on sites like Trustpilot or Realself. Weigh up all the information and make sure your decision is for you, after all it's your body.
What do you do with your body? Your lifestyle is key. How active you are may play a part in your decision. If you play a lot of high impact sport you may not want large breasts getting in the way. That being said some bodybuilders get on perfectly well. Be sure to raise this at your consultation.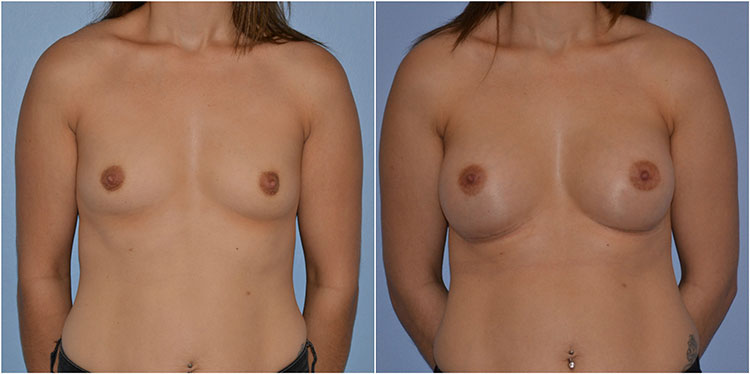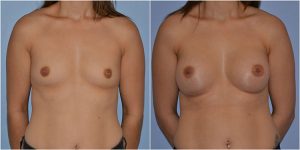 Implant Shapes
Implants generally come in two different shapes; Round and Teardrop.
Round implants are the most common choice and are suitable for the vast majority of patients.  They will give you a full, soft and proportioned appearance and the most suitable patients are those who have no breast droop and a good amount of natural breast tissue.
Teardrop implants are also known as anatomical implants , they have more volume in the bottom and come up in a oval shape with the idea of producing a more natural shaped breast. These implants are usually used for breast reconstruction or for patients who have very little natural breast tissue.
Implant Profiles
The profile of the implant determines the how far they will sit out from your chest wall. Low profile implants are the smallest and are great for patients who have a wider frame. Moderate profile implants are usually the most common and give you plenty of volume but with a more natural looking fullness and are ideal for those simply wanting to increase the size of their bust to look more in proportion. High profile and Extra High profile implants  stand out more from the chest and are best suited to those who are looking for a fuller breast but want to maintain a smaller chest diameter.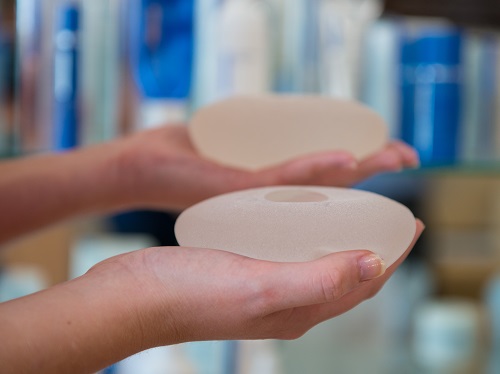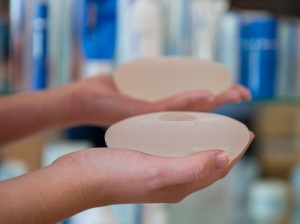 Implant Size
The 'perfect' breast implant size will be completely individual to you. There is no set perfect size as everyone's body is different and what is perfect for one patient may not necessarily work for you.
Implant sizes go by CC's rather than cup sizes but as a rough guide every 150cc – 200cc  equates to about one to one-and-a-half cup sizes so you can try and work out from your current size what cup size your chosen implant sizes will create. Your surgeon will take some measurements from you which is the first step to working out what size will be best suited to you. You will then be given a chance to try on different sized implants so you can get an idea of how they will look or have a 3D scan so you can visually see how different sizes, types and profiles of implants will look on your body.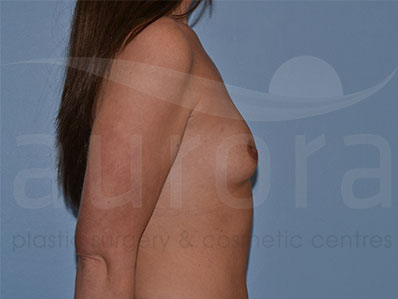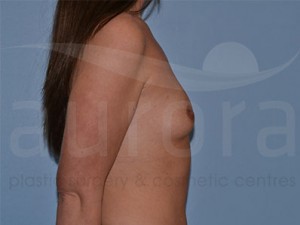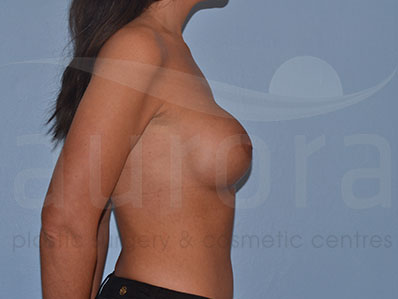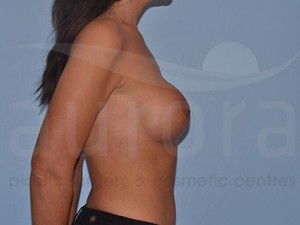 At Aurora Clinics part of The Private Clinic we pride ourselves on taking the time to go through all the options. Because in truth there is no 'perfect' implant size. You have to take into account your figure, the best implant shape for you and the look you are trying to achieve. Make sure you're doing it for you and that you are 100% confident and comfortable with your surgeon, that you've researched the surgeon, the clinic, and have truly considered how your new breasts will suit you and your lifestyle. That way your final result will be perfect.  Perfect for you.
Consultations with Mr Adrian Richards are available at The Private Clinic in our London Harley Street, Northampton and Buckinghamshire clinics.
Why Choose The Private Clinic?
We provide a 10 year warranty with £1000 towards your surgical costs.
Highly skilled expert Cosmetic surgeons, see our before and after results here.
Dedicated post-operative care and appointments with your surgeon and nursing team, including a 24 hour help line.
We offer you a three-year aftercare breast cover.
The Private Clinic covers a lifetime guarantee on your implant.
We have state of the art hospital facilities.
Giving you the best results and patient care is our priority.
We have also have a team of expert breast surgeons at The Private Clinic who consult from Birmingham, Bristol, Leeds, Manchester and Glasgow. If you would like to discuss Breast Augmentation please call 0333 920 2471 or use our breast augmentation online contact form.