Breast Reduction Surgery: How Small Can I Go?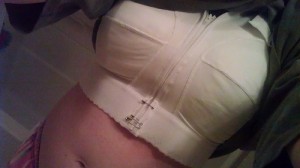 Many women are currently having their breast implants removed or replaced. Some women simply need breast reduction surgery because they are unhappy with the appearance of their large breasts in clothing or feel the weight of them is uncomfortable.
Either way, if you now wish to significantly reduce the size of your bust, a consideration might be how small your breasts are able to go…
Question:
I am 5ft 2in with a 34KK bust. Could you tell me the smallest sized cup I could expect to reach if I had breast reduction surgery?
Answer:
Thank you very much for your enquiry. Bust size following breast reduction surgery varies upon the appearance of your bust prior to surgery and where the volume lies.
Generally, if the majority of the volume is based in the lower part of the breast, this tissue will be removed and most patients can expect to drop to a C Cup. However, if the volume is located more towards the top of the breast, it may not be feasible to drop to a C and you may end up with a D Cup.
The important thing is to make your bust blend in with your individual body shape so as it is easier for you to wear clothes and you do not look top heavy.
We think it would be useful for you to listen to our free information CD on breast reduction surgery. We also have breast reduction videos which might help you get an idea of the possible results that you could achieve.
Many thanks for contacting us.
Best Wishes,
The Aurora Cosmetic and Plastic Surgery Team