Video: interview with an Earlobe Repair patient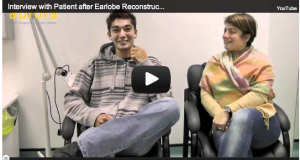 If you're thinking about having any cosmetic surgery procedure, it can be helpful to hear from patients who have already had the surgery, so you can hear about their experience in their own words.
In this video, uploaded to the earlobe repair section of our website, we interview 21-year-old Enis following surgery to repair his stretched earlobes (this surgery is sometimes known as tribal ear correction). (Click image to play.)
He tells us all about his experience, gives his verdict on the results we managed to achieve, and offers up his own wisdom to anyone thinking of stretching their earlobes.
If you''d like more information on earlobe correction, or would like to book a consultation with any of our specialist plastic surgeons, speak to our friendly team on on 01324 578290 or email mailto:info@aurora-clinics.co.uk.