Split Earlobe Repair – everything you wanted to know, but were afraid to ask…
Aurora is now part of The Private Clinic, a nationwide group of clinics with over 35 years of experience specialising in Cosmetic Surgery and Skin and a Trust Pilot 5 star rating. For comprehensive information, before and after photos and costs on Earlobe repair procedures click here.
Our expert Plastic Surgeon Adrian Richards is the Medical Director for The Private Clinic. Clinics are located in Birmingham, Bristol, Buckinghamshire, Glasgow, London Harley Street, Leeds, Manchester and Northampton.
There's no denying that earrings are a thing of beauty. The more elaborate, the better. (Come back Pat Butcher – we love you!). But many a woman's love affair with her earrings has come to an abrupt end when this has happened…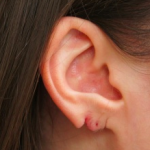 The dreaded earring tear! If this looks familiar, and you'd like to find out more about repairing your earlobes, you're in the right place. Our BAAPS registered surgeons have repaired earlobes for thousands of patients throughout the UK. Read our guide to Split Earlobe Repair.
> What causes split earlobes?
They usually occur through a 'perfect storm' of weak earlobes combined with frequent wear of heavy earrings. Occasionally, a one-off traumatic event will be the culprit – most commonly, the earrings being pulled or snagged.
> How easy are they to repair?
Compared to other cosmetic procedures, the Split Earlobe Repair technique is quite simple. Any excess tissue is removed to neaten up the area, before the two open sides are carefully stitched together with very fine dissolvable stitches. You can see the procedure for yourself in our latest video. Click below to watch Charli's surgery.
> I'd rather be asleep! Can I have surgery under general anaesthetic?
Absolutely. Because it's a minor procedure, we usually carry out Split Earlobe Repair under local anaesthetic, which most patients prefer. But if you'd rather be asleep during your surgery, and are in good health, we're happy to use general anaesthetic on request.
> Does it hurt?
You'll experience a very small amount of discomfort for around 10 seconds while you're having the anaesthetic injection. After that, the procedure is completely pain-free.
> How long does the procedure take?
Typically, the surgery takes only around 20 minutes per ear. We offer the procedure on a 'See and Treat' basis, which means you have your consultation and surgery in one appointment. Before surgery, we'll talk to you about the procedure, take photos and numb the area. The whole appointment shouldn't take much more than an hour.
> What result can I expect after Split Earlobe Repair?
You can look forward to getting back a natural-looking earlobe with minimal scarring. See our Split Earlobe Repair before and after photos.
> Will I be able to pierce my ears again after?
Yes, we're happy to say you will be able to re-pierce your ears – but we do advise to wait 2-3 months after your surgery, and avoid the site of the scar.
> Do I need to come back after my surgery?
Because we use absorbable stitches, you won't need to come back again after your surgery. Of course, you'll always be welcome to come back and see us for a check up for your peace of mind, but it isn't necessary.
> Where can I have surgery?
Our specialist surgeons offer Split Earlobe Repair at clinics throughout the UK. Contact us to find out your nearest clinic.
> How much does Split Earlobe Repair cost?
The price of repairing a split earlobe costs from £450, which includes your consultation and surgery. Though your earlobes may not seem like much to other people, they're important to you. At Aurora Clinics, we've a team of specialist Split Earlobe Repair surgeons offering the procedure at clinics throughout the UK. To find out more about the procedure, or to book an appointment, please contact us on 01324 578290 or email mailto:info@aurora-clinics.co.uk.