Minor surgeries for subtle enhancement – Permalip and Blepharoplasty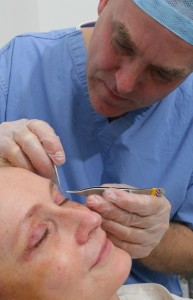 Aurora as part of The Private Clinic no longer offers the Permalip Lip Enhancement procedure.
Aurora is now part of The Private Clinic, a nationwide group of clinics with over 35 years of experience specialising in Cosmetic Surgery and Skin and a Trust Pilot 5 star rating. For comprehensive information, before and after photos and costs on Dermal Lip Filler procedures click here
For more information, before and after photos and costs on Blepharoplasty procedures click here
As the aesthetic industry has matured, and techniques have become more sophisticated, there has been a gradual shift toward more subtle procedures and natural results.
The best aesthetic professionals now aim to enhance what is already there, with a 'less is more' approach – rather than looking for dramatic changes that may not necessarily fit within the context of the face.
This has led to a huge surge in popularity for non-surgical treatments, which offer minimally invasive, subtle and natural-looking results.
But two cosmetic surgery  procedures that suit this new ethic perfectly are permanent lip enhancement and eyelid surgery.
Both are relatively minor surgeries which are usually carried out under local anaesthetic at our clinics, with no overnight stay.
And both aim for a subtle improvement that may not necessarily be immediately obvious to others, but will enhance your looks in a way that is very noticeable to you. Others will probably notice you look better, but can't really put their finger on what has changed.
Carried out by a skilled surgeon, blepharoplasty need not be obvious to anyone at all.
Upper blepharoplasty can be used to correct asymmetry, if one eyelid is heavier or droopier than the other. Or it can be used on both eyelids to subtly open up the eyes and make you look not different, but simply less sleepy.
Lower blepharoplasty can be used to reduce 'bagginess' in the under eye area, again making you look fresher and less tired. Scars are well concealed in the natural folds of the skin, so nobody should ever know you have had surgery.
Likewise, with permanent lip enhancement using Permalip implants, the aim is for subtle enhancement rather than dramatic change.
Results are predictable as they depend on the size of implant you choose. If you are looking to replace lost volume, a smaller implant will give you back just enough fullness to restore your lips to the way they used to be.
And if you are looking to enhance lips that have always been a little thinner than you'd like, implants can be carefully chosen to give you natural results that work in harmony with your other features.
If you would like to find out more about Permalip or blepharoplasty, or would like to book a consultation with one of our expert surgeons, call us on 01324 578290 or email mailto:info@aurora-clinics.co.uk.