Disaster! My earlobe has split – what can I do to fix it?
Aurora is now part of The Private Clinic, a nationwide group of clinics with over 35 years of experience specialising in Cosmetic Surgery and Skin and a Trust Pilot 5 star rating. For comprehensive information, before and after photos and costs on Earlobe repair procedures click here
Our expert Plastic Surgeon Adrian Richards is the Medical Director for The Private Clinic. Clinics are located in Birmingham, Bristol, Buckinghamshire, Glasgow, London Harley Street, Leeds, Manchester and Northampton.
With your social calendar filling up with special events for the Summer months, you may find celebrations are often dampened by the thought of anyone seeing your naked ears. If this is the case, now is the perfect time to consider earlobe repair surgery.
The "no beauty without pain" is what we tell ourselves when we are left with blisters from a few hours of wearing those uncomfortable designer shows, or that bag that gives you necks pains for the following week. As much as that pain disappears and you then forget about it until the next time, you may find that this is a different story when your earlobe splits after wearing heavy earrings!
What is considered as an earlobe repair?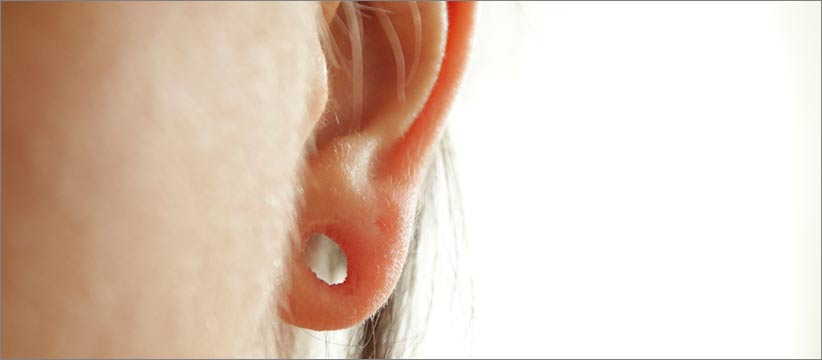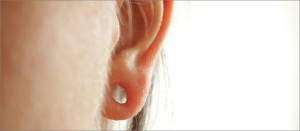 Split earlobe repair is a procedure where the earlobe has torn entirely through accidental tearing whilst wearing earrings or through over stretching. Stretched earlobes are a result of a tribal piercing also more commonly known as flesh tunnels.
But just when you thought you may have to glue your hair to the side of your head to hide the evidence, we have some good news. Your split earlobes can be a thing of the past with our quick fix here at Aurora Clinics, part of The Private Clinic Group.
Our earlobe repair surgery for both split and stretched earlobes is a minor procedure, where the excess tissue is removed, and the two splits are carefully stitched back together using very fine dissolvable stitches. The procedure is performed under local anaesthetic and takes between 20 – 30 minutes per ear, (for stretched ears it maybe longer depending on the size of the hole to be repaired) meaning that you will be able to walk out of the clinic and go back to your normal activities on the same day.
Plastic Surgeon Mr Adrian Richards has devised his own technique for widely dilated earlobes which has provided consistently effective results. You can see Mr Adrian Richards performing the procedure in this video;
The ear will need 4 – 6 months to heal, and there may be a small scar on your ear, that will fade over time. Ears can be re-pierced after 6 months, and this is a service that we offer at our Buckinghamshire clinic with our practitioners. It is advised to visit a practitioner if you had had surgery on your ear as they will be able to assess and advise the best place for your new holes to ensure that your ears don't split again.
Considering earlobe repair surgery?
Earlobe reconstruction is available at our Birmingham, Bristol, Leeds, Manchester, London and Buckinghamshire clinics.
At Aurora Clinics part of The Private Clinic, our team of highly experienced specialist ear surgeons are available for consultations to discuss and advise you on the options available to you to get the result you are looking for. If you wish to book a consultation, please call 0800 599 9920 or email enquiries@theprivateclinic.co.uk