Tina's Diary of her Blepharoplasty and Breast Reduction at Aurora Clinics
I have been considering Blepharoplasty (eyelid) and Breast Reduction operations for some time.
My eyes were beginning to look tired and it was difficult to apply eye make-up, my breasts felt heavy and I was suffering from back, shoulder and neck ache trying to keep my breasts supported. I would travel anywhere to choose the right surgeon for their skill, expertise, professionalism and friendly approach.
I met Mr Richards some time ago and knew he was the right surgeon for me, besides, his reputation as a top surgeon for breast and face surgery is so well established and goes before him. As I am an Aesthetic Nurse and in the Aesthetic Industry, this was obviously important to me. I had complete and total confidence in his ability and he exceeded my expectations.
Monday Evening
Sue, Mr Richards Business manager, arranged for me to be admitted the night before my operation as I live quite some distance away.
I arrived at the hospital at 9pm and was immediately seen by the RMO who did a routine ECG and blood test. The nurse who also explained what would happen the next morning gave me an orientation of my room.
I was really pleased how quick and efficient the staff worked from the moment I stepped through the hospital entrance. They wanted all the tests completed as quickly as possible for me, so that I had time to relax, ensuring I had a good night's undisturbed sleep.
Tuesday
The next morning, my allocated nurse came in to see me and explained that the Anaesthetist and Mr Richards would be round to see me shortly.
I had a shower and put on my theatre gown. Pura, Mr Richard's' lovely Anaesthetist, went through some paperwork with me and explained that I was first on the theatre list.
Mr Richards marked my eyes and breasts for incision points. He made me feel totally at ease and assured me that he would get the result I wanted. I happily signed the consent forms.
Within a few seconds I was on my way to theatre, and given an intravenous 'champagne cocktail' by his Anaesthetist. I woke up with a drip in my left arm (purely for a couple of doses of prophylactic antibiotics).
I was given some cold pads to put over my eyes to help reduce any swelling. I also applied some auridermXO cream under my eyes to help eliminate any bruising. I drank copious amounts of water to help flush out the anaesthetic and was encouraged to get up hourly and walk about (this helps reduce the risk of DVT which is a complication which can occur following any operation).
At no time at all was I in any pain, I can only say minor discomfort, and I only needed paracetamol tablets to alleviate this. The attention from the nurses was frequent and regular and I felt totally looked after.
Wednesday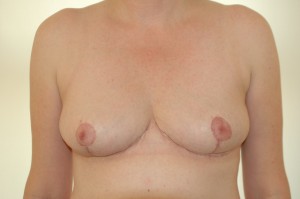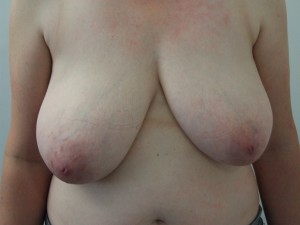 All is well, the immediate relief of the weight taken from my breasts is so apparent, I do not know why I never considered the operation sooner.
My breasts feel so much lighter. I cannot really tell what my eyes will look like yet as they are still swollen.
I can see, but they feel a little too sensitive to read yet. I watch some television in between covering my eyelids with ice cold pads.
Mr Richards speaks to me on the hospital telephone and reassured me all went very well and confirms I can leave hospital later today, as previously arranged with him.  I do doze off occasionally as it takes around 3 days for the anaesthetic to work its way out of my system.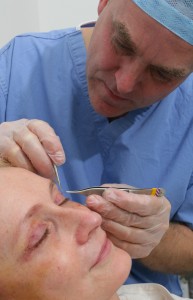 I am given an appointment to come back and see the nurse next Monday for suture removal and clipping of dissolvable sutures and an appointment to see Mr Richards in two weeks.
I continue to take paracetamol which is all I need to reduce the slight discomfort for my breasts as they are now slightly bruised and swollen. I am given written instructions to follow for the next 6 weeks regarding changing tape and wearing of a special bra night and day for gentle support.
I continue with the AuridermXo cream and have to say that I have no bruising under my eyes at all, this is partly the cream but also reflects on how well Mr Richards performs his operations.
I am told to rest for two/three weeks but I am back at work by the end of week two. My eyes look fabulous and everyone has remarked how well I look -– all those who know me well have said 'Mr Richards has done a perfect job'.
With all my thanks to Mr Richards and his team,
Tina