Adrian Richards 'highly commended' at BMA Book Awards!
We told you last year that Adrian Richards had released the 2nd edition of his best-selling "Key Notes on Plastic Surgery". If you're a student plastic surgeon, you may even have read it. And now we're delighted to share an update…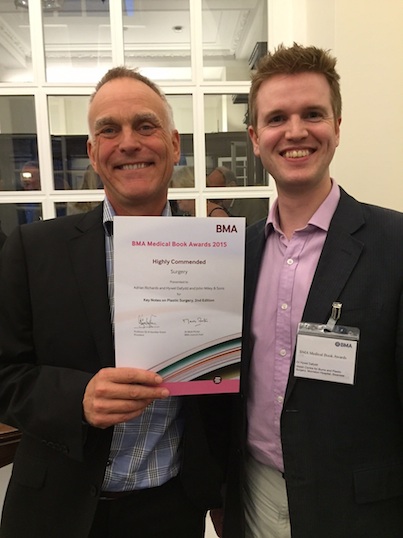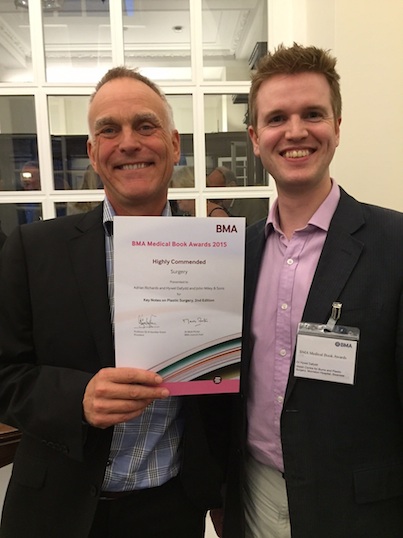 Adrian and co-author Hywel Dafydd (right) are celebrating a fine achievement.
The pair have received a 'Highly Commended' in the British Medical Association's yearly Medical Book Awards. Well done chaps!
About the book
Adrian wrote the first edition of "Key Notes on Plastic Surgery" while taking his final plastic surgery exams.
He'd looked for a concise, accessible textbook for surgeons in training – but found there wasn't one. So he decided to write it himself.
He used bullet points and diagrams to make it easy for student surgeons to dip in and find important information while revising particular topics.
The updated second edition was mostly written by Mr Dafydd, a talented young surgeon Adrian describes as "a younger version of myself".
He's used his broad understanding of the current trends in surgery to add more useful content – including plenty more diagrams to bring the material to life.
The book was awarded in the Surgery category, with the overall winner of the category being the epic "Atlas of Operative Maxillofacial Trauma Surgery: Primary Repair of Facial Injuries". Phew!
About the BMA Book Awards
The prestigious BMA Book Awards are held every year to recognise outstanding contributions to medical literature.
This year's BMA Book Awards were held on Thursday 3 September. Professor Sir Al Aynsley-Green Kt, BMA President attended the evening as guest of honour.
Prizes were awarded in 21 categories, with an overall BMA Medical Book of the Year chosen from the category winners. This year, the Book of the Year was awarded to "Practical Management of Complex Cancer Pain" by Manohar L. Sharma, Sanjeeva Gupta, Michael I. Bennett, and Karen H. Simpson.
All winners were decided by a judging panel who based their decisions on three criteria: applicability to audience, production quality, and originality.
It's a huge honour for both Adrian and Hywel to have their book recognised by an esteemed panel of their peers. And as Adrian has said he'd like a new edition published every 10 years, perhaps more awards will be on the cards in future!
"Key Notes on Plastic Surgery (Second Edition)" was published on 21 November 2014 and is available from all good book shops.