Considering Breast Enlargement? Come and try our new 3D Plastic Surgery Simulator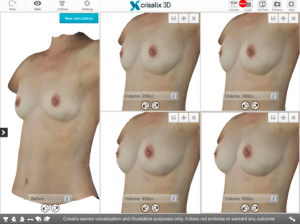 Aurora is now part of The Private Clinic, a nationwide group of clinics with over 35 years of experience specialising in Cosmetic Surgery and Skin and a Trust Pilot 5 star rating. For comprehensive information, before and after photos and costs on Breast Augmentation procedures click here.
The Private Clinic. Clinics are located in Birmingham, Bristol, Buckinghamshire, Glasgow, London Harley Street, Leeds, Manchester and Northampton.
Are you curious how you'd look with a Breast Enlargement? Come and find out with our new Crisalix Plastic Surgery Simulator.
When you're considering any plastic surgery procedure, there's plenty to think about. But the biggie is what you can expect to look like afterwards.
You may be deeply unhappy with something and desperately want to change it. But without a clear idea of the result you can expect, you have to rely on your imagination.
And if it's breast enlargement you're thinking of, it's a procedure with so many variables that it's particularly tricky to picture your final result.
So we're delighted to have introduced a way to help.
You can now get a 3D projection of your possible breast enlargement results with our new Plastic Surgery Simulator.
How does the Plastic Surgery Simulator work?
When you book a breast enlargement consultation with us, let us know you'd like a simulation. Then either at your consultation or your sizing appointment, we'll use the Plastic Surgery Simulator to create a 3D projection of the changes you could expect.
We'll take three photos of you – one front on and two side profiles –  then they'll be edited during your discussion.
You might be wondering about cup sizes, volumes and shapes. The Plastic Surgery Simulator will let you choose from a broad range of breast implant types, sizes and surgery techniques to see what suits you best.
It's important to say that it's not intended to be an exact representation of the results you'll achieve. But it will give you a rough idea of how the different implant types and sizes will look on your body.
It can be a really useful aid in your decision making process – especially if you're torn between two different sizes. You might have tried two different sets of implants in a bra and be struggling to choose between them. But seeing a simulation of how they'd look unclothed on your body can make that decision easier.
Below are images from a simulation alongside the patient's final results: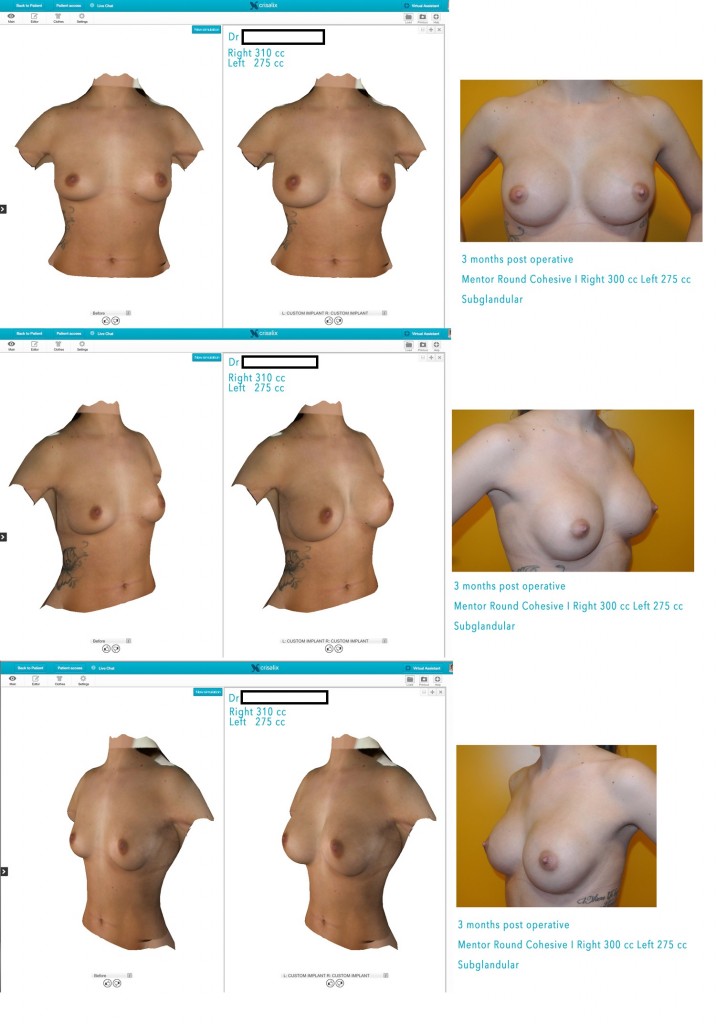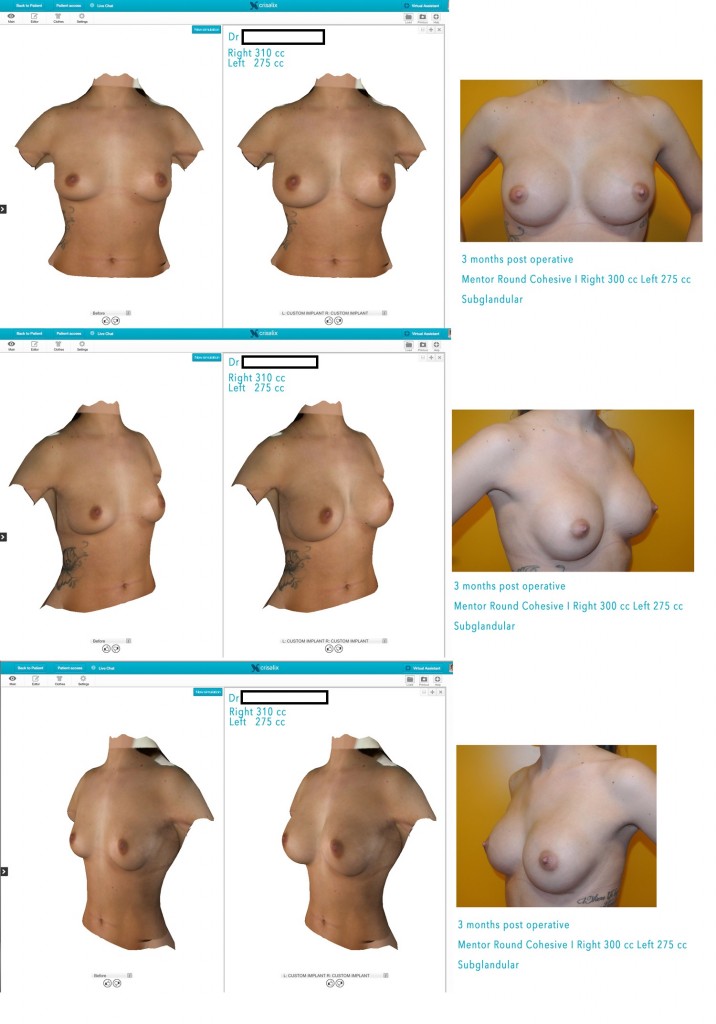 How much does it cost?
The simulations are offered as part of our normal surgical consultations, which are completely free.
Breast Augmentation at The Private Clinic
At The Private Clinic breast augmentation is performed by some of the UK's top consultant plastic surgeons who have decades of experience. Come and meet our specialised breast surgeons in one of our clinics in London, Birmingham, Manchester, Leeds, Glasgow, Buckinghamshire, Northampton and Bristol.
We provide a 10 year warranty with £1000 towards your surgical costs.
We have a team of highly skilled expert Cosmetic surgeons, see our before and after results here.
We offer dedicated post-operative care and appointments with your surgeon and nursing team, including a 24-hour helpline.
You will receive three-year aftercare breast cover.
The Private Clinic covers a lifetime guarantee on your implant.
We have state of the art hospital facilities.
Our priority is ensuring you get the best results and patient care.
See our breast augmentation videos.
Read previous patient stories.
Book your appointment
To book a breast enlargement consultation and 3D simulation, please give us a call on 03339 209135 or use our breast augmentation online contact form and a member of the team will be in touch.