Our latest Patient Satisfaction Survey – December 2014
At Aurora, we take the opinions of our patients seriously. With that in mind, we regularly survey everybody who has treatment with us and collate the results to see what we're doing right – and where we can improve.
Our latest feedback comes from December 2014, and was provided by 53 patients who had a varied range of procedures including breast enlargement, breast reduction, inverted nipple correction, ear pinning, facelift, eyelid surgery, tummy tuck, body lift, labiaplasty and liposuction.
Our patients' verdict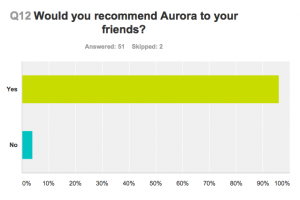 In summary, here's what our patients said in our December survey:
92% thought it was 'Very Easy' or 'Easy' to schedule an appointment.
94% judged their consultation experience as 'Excellent', 'Very Good' or 'Good'.
98% rated the hospital facilities 'Excellent', 'Very Good' or 'Good'.
92% thought their aftercare was 'Excellent', 'Very Good' or 'Good'.
96% were 'Extremely Happy', 'Happy' or 'Satisfied' with the results of their surgery.
And 96% said they would recommend Aurora to friends.
In their own words…
Here are some of the comments we received:
"Mr Richards and Aggie made the whole experience really positive. Mr Richards had a very calm, professional manner and answered any questions I had, which made me feel confident that I had chosen the right surgeon. Aggie was very knowledgeable with the information and advice she gave. Aggie was like having my Mum with me (even though we are of a similar age!)"
"After losing 8.5 stone I had a lower body lift with Mr Prashant Govilkar, who was great. He explained everything very well and came to see me daily in the hospital. Very pleased with my results."
"I love my new breasts more and more every day as I notice the subtle changes. My only regret is not doing this sooner! I have already recommended Aurora to lots of my friends. I have had the most perfect experience and can't thank everyone enough!"
"The care and consideration I received from Mr Richards and the wonderful Aggie has been exceptional. Can't praise them enough!"
"Excellent advice, care and treatment! Especially Aggie, she's a credit to the team. Have already recommended your services".
"My stomach is washboard flat and wrinkle free – I'm delighted and can't wait to get in my bikini. It was so much easier than I expected! Mr Richards and Aggie have been wonderful, he is a true gentleman and an expert in his field and Aggie is always there, kind and reassuring. Thank you so much for what is the best Christmas present EVER!"
"The service I received from Mr Richards and the team was exceptional. I was never made to feel that I was just "another client". A really nice bunch of people who always make you feel welcome and special."
"Wow! After considering this treatment for many years I only wish I'd known about Aurora earlier. My whole procedure from consultation to where I am now has been fantastic. Mr Georgeu has done an amazing job, put me at ease and the nurses, anaesthetist and staff at the Chelmsford were outstanding. Delighted with my results."
"My operation was performed by Mr Telfer, and based on my results, he is without a shadow of a doubt the most experienced surgeon for labiaplasty. Fantastic all-round patient care."
"Mr Adrian Richards far exceeded my expectations on my new tummy, and I'm so grateful to him for changing my life for the better. Aggie is an absolute gem; I couldn't have gone through this procedure without her support."
But we're listening to your suggestions too…
We always welcome constructive criticism to help us see where we could be doing things better. From this survey, we learned that you'd like more information on what to bring when you come for surgery, and more advice about returning to exercise after your operation.
Please note that we are listening, and try to act upon all your comments as best as we can.
If you have any testimonials or feedback you'd like to share, please feel free to email us any time at mailto:info@aurora-clinics.co.uk.