Our latest Patient Satisfaction Survey – April-June 2015
At Aurora, our patients' opinions are very important to us. And transparency is important for any potential patients thinking about placing their trust in us. 
Every couple of months, we survey all our patients once they've healed and seen the final results of their surgery. We then collate and publish this feedback on our website.
We're happy to be able to share the latest survey results here, with details of what our patients think we're doing right – as well as areas we can improve.
Our latest surveys were carried out on patients from April-June 2015 who had a range of surgeries, including facelift, tummy tuck, earlobe repair, breast enlargement, breast reduction, inverted nipple correction, areola reduction, eyelid surgery, thigh lift, arm lift and liposuction. You can see the results below.
Our patients' verdict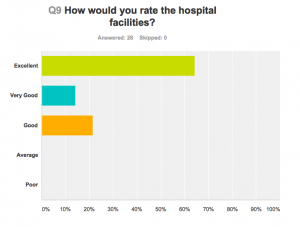 In summary, here's what our patients had to say:
92% thought it was 'Very Easy' or 'Easy' to schedule an appointment.
96% judged their consultation experience as 'Excellent', 'Very Good' or 'Good'.
96% felt they received enough information prior to surgery.
100% rated the hospital facilities 'Excellent', 'Very Good' or 'Good'.
89% thought their aftercare was 'Excellent', 'Very Good' or 'Good'.
89% were 'Extremely Happy', 'Happy' or 'Satisfied' with the results of their surgery.
And 89% said they would recommend Aurora to friends.
In their own words…
Besides marking us on the criteria above, we also ask all our patients for their open-ended feedback. Here, replicated in full, are some of the comments we received:
"Couldn't have asked for a better experience! I love my new boobs. Adrian is a fantastic surgeon and Aggie is lovely, if I had any worries I could call or text her mobile and she would get straight back to me; even at 9pm on a Sunday night! Thanks so much! I recommend anyone that is thinking about having it done to do it! I'd love to do it all again." – Sarah, Leicester
Excellent service, friendly and approachable staff, I felt listened to and in good hands and I am happy with my results. From start to finish. I returned as many times as I wanted to (as I had a lot of questions and worries this was very helpful!) and each time all my questions were answered and the staff were always brilliant! Aggie has been especially helpful. I made all my own decisions and was not pushed into anything." – Louise, Northampton
I'd never considered any cosmetic surgery before and was very nervous at the consultation not knowing what to expect, even though this was a very minor surgery (earlobe repair). I felt completely put at ease though by both my surgeon and his assistant. They were both very honest and helpful, the surgery was painless and again I was completely put at ease. I felt that if I'd had any questions or problems (which I haven't) they would be there to help. The results are just exactly as I wanted and I wouldn't hesitate to recommend Aurora Clinics if you are contemplating surgery." – Beverly, London
"Before going to Aurora Clinics I had had a really bad experience with different clinic so was extremely anxious going to my first consultation with Adrian Richards. From the moment I walked in that all changed and left the consultation feeling like they had just taken the past 8 years of self-hatred away and finally shown me that there was a light at the end of the tunnel. His team were fantastic before and after surgery and I was always assured to contact them with whatever worries I might have no matter how small and it wasn't a bother. I have an amazing result which I couldn't have imagined in my wildest dreams. The confidence I now have is amazing and I finally for the first time in my life feel like a woman and I can honestly say it's down to the amazing staff at the Aurora clinic. I would recommend this clinic to everyone, including friends and family!" – Sarah, Lincolnshire
 "I thoroughly recommend this clinic. Friendly and helpful staff who immediately put me at ease on my first visit. When the day came to have my tummy tuck, I had complete trust in Mr Adrian Richards and I was right to do so. The result is amazing and is more than I expected!" – Henna, Northampton
We're listening to your suggestions…
As always, we welcome any suggestions we can take on board to help us improve. This time, we learned that you'd like better vegan meal options and improved email communication.
Please note that we are listening to your feedback, and we'll try to act upon all your comments as best as we can.
Thanks to all patients who took time to complete the survey. If you have any comments you'd like to share, please feel free to email us any time at mailto:info@aurora-clinics.co.uk.