Our latest Patient Satisfaction Survey – March-April 2015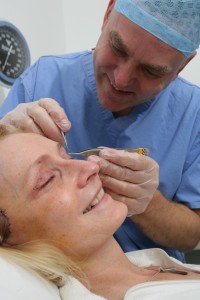 At Aurora, our patients' opinions are extremely important to us. We're always keen to hear feedback about people's experiences at our clinics – the more candid the better!
With that in mind, our policy is to survey everybody who comes to us for treatment. We regularly collate and publish these results to show potential patients – and us – what we're doing right, and where we can improve.
Our latest feedback comes from March-April 2015, and was provided by patients who underwent a varied range of procedures including the Brazilian tummy tuck, mole removal,  breast enlargement, breast reduction, inverted nipple correction, eyelid surgery, tummy tuck, thigh lift, arm lift, areola surgery, rhinoplasty and liposuction. You can see the results below.
Our patients' verdict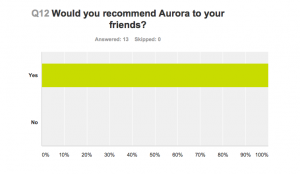 In summary, here's what our patients had to say in our latest survey:
100% thought it was 'Very Easy' or 'Easy' to schedule an appointment.
92% judged their consultation experience as 'Excellent' or 'Very Good'.
100% felt they received enough information prior to surgery.
92% rated the hospital facilities 'Excellent', 'Very Good' or 'Good'.
100% thought their aftercare was 'Excellent', 'Very Good' or 'Good'.
100% were 'Extremely Happy', 'Happy' or 'Satisfied' with the results of their surgery.
And 100% said they would recommend Aurora to friends.
In their own words…
Here, replicated in full, are the comments we received when we asked patients to review us:
"I couldn't wait to have the surgery done… I'm now 8 weeks post op and I'm thrilled with the result. The whole process was easy and all the staff involved friendly and helpful. Aurora Clinics in Essex and Mr Georgeu have all been brilliant. Merci Mr Georgeu for your magical work!"
"I would 100% recommend Aurora Clinics, from the consultation to booking the operation and to having the procedure, everything was perfect and I'm more than happy with the results."
"I found the whole experience easy from consultation through to post-op check up. Everything was explained well, the surgery was much better and far easier than I could have ever have hoped for, any post-operative discomfort was well controlled, I was able to get out of bed easily the next day, my recovery was swift and I did not experience any negatives. The results are astounding. This is reconstructive surgery at its best. I am able to wear a bikini with confidence. I feel human again. The only regret I have is not doing it sooner. Mr Richards is amazing, his attention to fine detail and the wellbeing of his patients comes first. All aftercare is overseen by his assistant Aggie who does a remarkable job. They are an awesome team and I can't recommend Aurora highly enough. Thank you."
"Wonderful experience – highly recommended. My surgery has been life changing and Aurora and their staff have meant what could have been a stressful experience went very smoothly."
"I am extremely happy, it has changed my life. I wish I had done this years ago and not suffered for years. If you are thinking about it, just do it."
"I would like to thank Adrian Richards, Aggie Oakley and Sinead for all their help, care and support during my consultation right through to the aftercare of my Breast Augmentation. I was very, very happy with the results and I was never made to feel unwanted or that I was being a nuisance when I had any queries to do with the surgery and post-op recovery. I would definitely recommend Aurora Clinics 100% to anyone who was looking to get cosmetic surgery. I would definitely use them again if I was considering any more surgery."
"From consultation through to surgery and aftercare my experience with Aurora has been first-class. Mr Richards and his team's attention to detail is outstanding."
But we're listening to your suggestions too…
Of course, we always welcome constructive criticism to help us see where we can improve. From this survey, we learned that you'd like more written advice on wound care. Please note that we are listening, and try to act upon all your comments as best as we can.
Thanks to everyone who took time to complete the survey. If you have any comments you'd like to share, please feel free to email us any time at mailto:info@aurora-clinics.co.uk.