Permalip for the perfect pout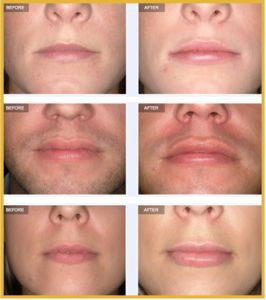 Aurora as part of The Private Clinic no longer offers the Permalip Lip Enhancement procedure.
Aurora is now part of The Private Clinic, a nationwide group of clinics with over 35 years of experience specialising in Cosmetic Surgery and Skin and a Trust Pilot 5 star rating. For comprehensive information, before and after photos and costs on Dermal Lip Filler procedures click here
Full lips are one of the most admired – and desired – facial features, being a classic signifier of beauty and youth.
For that reason, many people born with naturally thin lips, or who find their lips have lost volume over time, can be dissatisfied with their appearance.
The popularity of injectable lip fillers is testament to our penchant for plumper pouts. But for those who aren't keen on the idea of regular injections, there is a more permanent option – Permalip implants.
Our surgeons regularly use Permalip to perform permanent lip enhancement for both women and men. It's a quick, simple technique performed under local anaesthetic at our clinics in London, Birmingham, Northampton and Bucks, with no hospital stay needed.
If lip implants aren't something you've considered before, you may be unsure about the type of result that can be achieved – as well as their advantages over injectable lip fillers. To give you an idea, here are some of the main reasons people choose Permalip at our clinics.
1. Quick and easy procedure
Permalip surgery is carried out under local anaesthetic. The whole process is usually completed in 30 minutes if both lips are treated, or 15 minutes if only one. No overnight stay is needed, and you're free to go home straight after the procedure. There's usually a little swelling for the first 1-2 weeks, but this will gradually subside to leave you with your final result.
2. Natural look and feel
The extra soft silicone implants mimic the natural texture of the lips. They are gently tapered at each end to echo the shape of the lip, producing a subtle result that is in harmony with the rest of the face. The lips will look, feel and move completely naturally.
3. Permanent results
Permalip implants give you permanently fuller lips, but it's reassuring to know the procedure is completely reversible if you ever change your mind. If you decide you'd like to go larger, or smaller, or even remove the implants altogether, you can. And because there's no visible scarring, your lips will return to the way they were before surgery.
4. Choice over your final result
Permalip implants come in a variety of sizes and shapes, giving you the freedom to choose how you'd like your lips to look – whether a subtle enhancement or a much more noticeable result. And because they are a set size, using implants allows for a result that is more predictable than fillers (which can be harder to gauge). The implants won't rupture, deflate or degrade over time so – unlike fillers – when you achieve the result you are looking for, it will last.
Click on the video below to find out more about Permalip: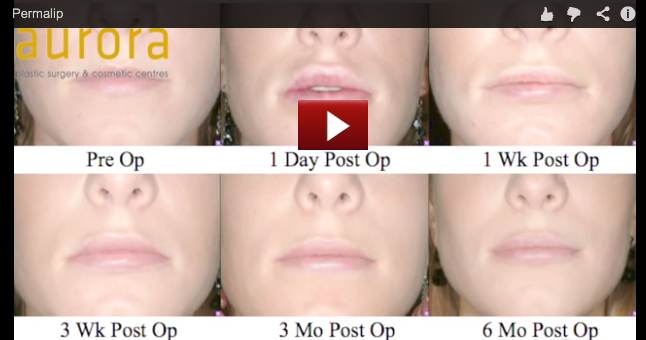 Booking a consultation
Any cosmetic surgery procedure, however minor, is a big step, so it's important to choose a clinic and surgeon you can trust. At Aurora Clinics, all of our surgeons are registered with the General Medical Council, and are members of at least one of the highest professional surgical bodies in the UK. We also offer unlimited consultations before surgery so you can be sure that the procedure, and the surgeon, are right for you.
Considering Permalip Lip Enhancement Surgery?
We no longer offer the Permalip Lip Enhancement procedure. Please see information above for Dermal Lip Filler treatment.