The big Aurora Clinics survey – here's what you think of us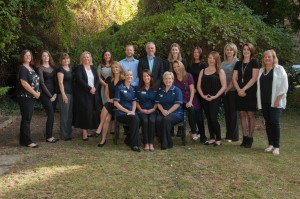 At Aurora, we're always trying to improve our service, our clinics and our procedures.
We regularly ask you to rate your experiences at our clinics, usually in the form of short satisfaction surveys and reviews. But to really get to grips with how you feel, we recently carried out a larger-scale online survey.
What did we ask?
We asked you to rate us on several wide-ranging criteria – our team, how easy it was to get an appointment, the quality of information you were given, how your calls were handled, how you were treated and more.
And how did you rate us?
(Click on graphs to enlarge)
95% rated their initial phone call 'Very Good' or 'Good'
89% rated the information they received 'Very Good' or 'Good'
87% rated our clinic locations as 'Very Good' or 'Good'
95% rated the appearance of our clinics and the person who greeted them in reception 'Very Good' or 'Good'
100% rated the quality of care from their doctor/surgeon as 'Very Good' or 'Good'
93% rated the listening skills of their doctor/surgeon as 'Very Good' or 'Good'
100% rated how well the treatments were explained as 'Very Good' or 'Good'
93% rated the helpfulness of our website as 'Very Good' or 'Good'
 And 95% rated their overall experience with our clinic as 'Very Good' or 'Good'
In your own words…
We also had open-ended questions, to give you the chance to tell us about your experience in your own words. Here's a selection of the comments we received from you:
"Brilliant service, friendly staff, comfortable surroundings, recommend to everybody I know."
"Staff are always pleasant, beautiful surroundings, can't fault in any way."
"Wonderful staff throughout. Able to make appointments that really suited me. Mark, Fiona and Becky have really made me feel great about myself. Always discussing what my options are and what I should expect. Thank you very much."  
"Brilliant service, friendly staff, well looked after when I had cosmetic surgery and have been for treatments many times since and will continue. Thank you to all the staff at the Gatehouse. 
"I previously underwent abdominoplasty with Mr Richards in 2010 and couldn't fault the service I received. As a surgeon Mr Richards was fantastic and I couldn't have asked for a better result. The aftercare from the Practice Manager and Nurse was first rate. I did contact the clinic again last year for treatment of facial veins and had a few issues getting seen, however I have now started treatment and again I can't fault the service. I would definitely recommend Aurora Clinics to anyone." 
"All staff are extremely knowledgeable and courteous. Visiting the clinic is an absolute pleasure."
"Mel is brilliant in every way and I would trust her with my life! She is fantastic at explaining things, at assessing and treating people to give the best possible aesthetic outcome."
"Nurse Ruth Atkins is the most professional, kind, gentle, understanding and brilliant nurse practitioner. We wouldn't have anyone else!"
Thanks to everybody who took the time to complete the survey. We're thrilled to have received such great feedback, though there's always room for improvement. We always like to hear what you think, whether positive or not-so-positive! You can always contact us at mailto:info@aurora-clinics.co.uk if you have any feedback or comments you'd like to share.