Inverted Nipple Surgery – what's the right age?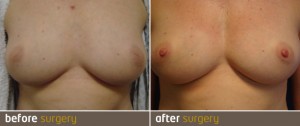 Aurora is now part of The Private Clinic, a nationwide group of clinics with over 35 years of experience specialising in Cosmetic Surgery and Skin and a Trust Pilot 5 star rating. For comprehensive information, before and after photos and costs on Inverted Nipple procedures click here
The Private Clinic is located in Birmingham, Bristol, Buckinghamshire, Glasgow, London Harley Street, Leeds, Manchester and Northampton.
Did you know that inverted nipples, despite being featured in Channel 4's Embarrassing Bodies, are actually a fairly common condition?
They occur in both men and women, old and young – with over 10% of the world's population exhibiting some degree of nipple inversion.
At our clinics, inverted nipple surgery is one of our most common minor cosmetic surgery procedures. But with the condition affecting all ages, is there an ideal time to have corrective surgery?
How young is too young for inverted nipple surgery?
Any discussion about the ideal age for surgery has to start with a minimum. The youngest age at which our surgeons will consider a patient for inverted nipple surgery is 18 years old. And there's an important medical reason for this.
Before the age of 18, the breasts haven't fully developed. It's crucial to allow the breasts time to mature and reach their final size and shape before performing any surgery to change their appearance. Any changes made before the breasts are fully developed can potentially be compromised by the continued growth of the breasts.
At the other end of the scale – is there a maximum age?
Is there an upper age limit for inverted nipple surgery?
There's no arbitrary cut-off age when surgery is no longer allowed. It's a matter of carefully considering a patient's health and deciding if surgery is safe.
To date, the oldest patient we've treated for inverted nipple surgery at Aurora Clinics was a 78-year-old lady. This patient really made an impact on our team and gave us one of those days we'll never forget.
As soon as the lady's surgery was over and we showed her the results, she immediately burst into tears.
Concerned that she might be unhappy with what we'd done, we asked what was wrong. She told us she was crying for all the years she'd wasted, and regretted not having the procedure earlier in her life.
It was a very poignant moment and left us all with mixed emotions that day. We were sad for the lady's wasted years, but at the same time delighted we could give her the results she'd wanted for so long.
The take away message is that if inverted nipples are really bothering you, there's no need to live with them. As long as you are at least 18, and our surgeons are satisfied that surgery would be safe for you, we'll be happy to consider you as a patient for inverted nipple correction surgery.
The idea of surgery may be a daunting prospect, but inverted nipple surgery is particularly quick and easy – probably much more than you think.
Treatment usually takes only 15 minutes for each nipple, which is carried out under local anaesthetic. And no overnight stay is needed, so you're free to go home afterwards.

Inverted Nipple Surgery at The Private Clinic
The Private Clinic sees over 15,000 new patients every year and perform over 10,000 procedures, with one of the highest –patients' satisfaction in the sector, Trustpilot 9.4, 5 star rating, 93% would recommend us to their friends and family. We are a multi award winning provider and have been voted the Aesthetic award for Best UK Clinic Group 2017.
At The Private Clinic, we have a number of experienced BAAPS registered surgeons who specialise in inverted nipple surgery. To find out more or to book, please contact our team on 0333 920 9135 or use our inverted nipple online contact form.