Inverted nipples – do I have them?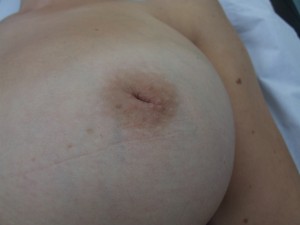 Aurora is now part of The Private Clinic, a nationwide group of clinics with over 35 years of experience specialising in Cosmetic Surgery and Skin and a Trust Pilot 5 star rating. For comprehensive information, before and after photos and costs on Inverted Nipple procedures click here
Though not widely discussed, inverted nipples affect many more people than you might think.
Approximately 10% of the population has nipple inversion to some degree – and it may surprise you to know that men are just as likely to be affected as women.
Besides the cosmetic concerns for both sexes, inverted nipples can also make breastfeeding difficult for women, causing distress for both mother and baby.
So how can you tell you have inverted nipples?
For most people, it is apparent just by looking at the nipple in its relaxed (ie non-erect) state. If your nipple doesn't protrude, instead appearing flat or as a slit or indentation, then it is considered inverted. However, even if your nipples look normal, it's still possible they may retract when stimulated – which also counts as being inverted!
There is a simple 'pinch test' you can use to determine if this is the case. Place your fingers either side of the areola around the nipple and squeeze lightly. This should cause the nipple to protrude. If the nipple recedes inwards instead, then the nipple is inverted.
How can inverted nipples be treated?
Depending on the severity of the nipple inversion, there are both surgical and non-surgical treatments available. For less severe cases, non-surgical options include Niplette, a suction device worn continuously for one-three months to gradually tease the nipple outwards. The breast tissue remains intact, and breastfeeding is possible afterwards.
For more severe inversion, surgical correction may be required. Even if surgery is necessary, inverted nipple correction takes about 30 minutes and is performed as a day patient, so it's not a major surgery by any means.
However, it's important to note that surgery means breastfeeding will no longer be possible for women worth bearing in mind if you are looking to start a family in future.


Nipple Surgery at The Private Clinic
The Private Clinic sees over 15,000 new patients every year and performs over 10,000 procedures, with one of the highest –patients' satisfaction in the sector, Trustpilot 9.4, 5-star rating, 93% would recommend us to their friends and family. We are a multi-award winning provider and have been voted the Aesthetic award for Best UK Clinic Group 2017. The Private Clinic prides itself on its commitment to Medical Expertise, Patient Care and Satisfaction, Honest advice and most importantly Results. We are above all committed to Quality. Please feel free to contact us for any advice or to book a consultation with one of our expert Breast surgeons.
At The Private Clinic, Nipple Surgery is one of our specialisms, and we have a number of BAAPS registered surgeons who offer the treatment. For more information on any of the nipple surgery procedures above, or to book a consultation, please contact us on 0333 920 2471 or use our online contact form.