Inverted nipples in men – what causes them, and how are they treated?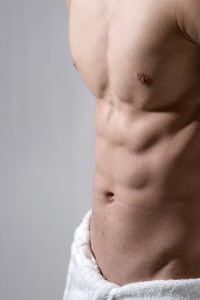 Aurora is now part of The Private Clinic, a nationwide group of clinics with over 35 years of experience specialising in Cosmetic Surgery and Skin and a Trust Pilot 5 star rating. For comprehensive information, before and after photos and costs on Inverted Nipple procedures click here.
The Private Clinic has clinics located in Birmingham, Bristol, Buckinghamshire, Glasgow, London Harley Street, Leeds, Manchester and Northampton.
Ed Sheeran must have thought all his Christmases had come at once last week. The singer performed at the Victoria's Secret Show in London, accompanied by a stage full of lingerie-clad supermodels.
Being interviewed on the pink carpet outside, he was asked what he thought his sexiest feature was, and promptly replied "my inverted nipples". Bravo Ed.
Lots of people aren't aware that it's not just women who have inverted nipples. Men can get them too. In fact, they occur fairly equally across the sexes – approximately 10% of the population at large.
But not all men embrace their inverted nipples like Ed. Many feel quite self-conscious about them.
And because men tend to expose their chests much more than women – when they go swimming, the gym, the beach, etc – the presence of inverted nipples can cause some men to avoid these activities rather than have to show their chests.
What causes inverted nipples in men?
In most cases, inverted nipples in men are caused by the same issue as inverted nipples in women. The milk ducts (yes, men have these too!), are shorter and tighter than normal. This creates an imbalance between the strong inward pull of the milk ducts and the relatively weaker outward pull of the muscle in the nipple. The nipple muscle loses the battle, and the nipple is tethered inwards.
In rarer cases, inverted nipples can also be caused by gynecomastia. This occurs when the enlarged mammary gland tethers the nipple to the muscle fascia, causing the nipples to invert.
Is the surgery different for correcting inverted nipples in men?
Surgical correction for inverted nipples in men is essentially the same procedure as that used for women. In both cases, the taut milk ducts are released or divided, so the 'tethering' of the nipple inwards is reduced.
But with men, there is usually a much smaller scar and faster healing because the nipple is smaller, so requires less surgery.
If gynecomastia is the cause, the glandular tissue tethering the nipple is removed.
Inverted Nipple Surgery at The Private Clinic
The Private Clinic sees over 15,000 new patients every year and perform over 10,000 procedures, with one of the highest –patients' satisfaction in the sector, Trustpilot 9.4, 5 star rating, 93% would recommend us to their friends and family. We are a multi award winning provider and have been voted the Aesthetic award for Best UK Clinic Group 2017.
At The Private Clinic, we have a number of experienced BAAPS registered surgeons who specialise in inverted nipple surgery. To find out more or to book, please contact our team on 0333 920 9135 or use our inverted nipple online contact form.