What causes inverted nipples and what can be done about them?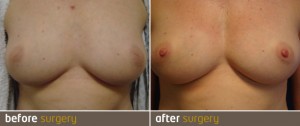 Aurora is now part of The Private Clinic, a nationwide group of clinics with over 35 years of experience specialising in Cosmetic Surgery and Skin and a Trust Pilot 5 star rating. For comprehensive information, before and after photos and costs on Nipple procedures click here
The Private Clinic has clinics located in Birmingham, Bristol, Buckinghamshire, Glasgow, London Harley Street, Leeds, Manchester and Northampton.
There are various reasons why nipple inversion may occur, either as a result of an event or otherwise naturally from birth.
There can also be degrees of severity, with the main distinction being whether the nipple is able to come out at all or not.
The reasons for inverted nipples from birth can be due to short milk ducts or because of Chromosome 2q Deletion syndrome. They can also be symptoms of rarer Fryns-Aftimos syndrome or Weaver syndrome.
Around 10-20% of women are born with inverted nipples. Other causes of inverted nipples are a direct result of a specific event or incident. These can include extreme weight loss or weight gain, surgical injury, breast cancer, breast infections such as an abscess or mammary duct ectasia.
They can also occur following pregnancy or breastfeeding.
If the nipple is inverted most of the time but can become prominent when stimulated then the inversion is deemed to be temporary. In this instance, it can often be reversed through regular exercising of the nipple – either manually or through the use of suction cups or breast clamps. These encourage the nipple into more permanent prominence.
For permanent inversion, it is likely that surgery will be the only way to reverse the problem. Surgery involves making an incision around the nipple and dividing or separating the ducts and then allowing the nipple to sit naturally.
It's a very common procedure with very little risks associated with it and the majority of cases work successfully. However, Breastfeeding will not be a guaranteed possibility after this surgery and so it should be considered carefully.

Nipple Surgery at The Private Clinic
The Private Clinic sees over 15,000 new patients every year and performns over 10,000 procedures, with one of the highest –patients' satisfaction in the sector, Trustpilot 9.4, 5-star rating, 93% would recommend us to their friends and family. We are a multi-award winning provider and have been voted the Aesthetic award for Best UK Clinic Group 2017. The Private Clinic prides itself on its commitment to Medical Expertise, Patient Care and Satisfaction, Honest advice and most importantly Results. We are above all committed to Quality. Please feel free to contact us for any advice or to book a consultation with one of our expert Breast surgeons.
At The Private Clinic, Nipple Surgery is one of our specialisms, and we have a number of BAAPS registered surgeons who offer the treatment. For more information on any of the nipple surgery procedures above, or to book a consultation, please contact us on 0333 920 2471 or use our online contact form.