Maria – Breast Augmentation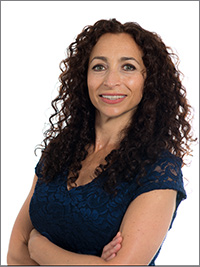 It was all about those dresses for Maria. After living with her small bust for many years, Maria longed to enjoy shopping for clothes and to feel feminine. After researching breast enlargement surgery and various surgeons she decided on Mr Adrian Richards to perform her procedure. Read on to find out more about Maria's surgical journey with the team at Aurora Clinics.
Why did you decide to have a Breast Enlargement?
I was born in sunny South Africa where people don't wear much in the hot Spring and Summer months. As the years passed, I accepted that I was going to be as small and alas, as flat chested as my mum and her sister had been before their breast enlargement operations. A good 34/36 AA/A sized bra. In fact, my mum was one of the very first breast enlargement operations in South Africa in the mid 1970's.
Whilst I was always fixated on women's breasts and how lovely and feminine they looked in bras, lingerie, clothes and bathing costumes, I convinced myself that I had a phobia of needles and  cutting skin and swore that I would never have an enlargement as long as I lived!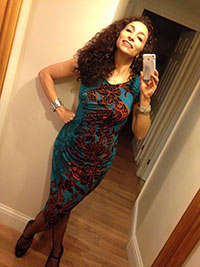 I grew up to be very confident emotionally, happy in my own skin, able to jump around and do lots of aerobics and gym and swimming classes wearing  just a leotard with no big boobies needing hoisting up in big sports bras. However, the one area of my life where small breasts really got me down, was shopping for clothes. It was the bane of my life. Tears and sweating, huffing and puffing  every shopping experience resulted in me hating the whole shopping thing but then never having anything to wear. An awful vicious circle. I was mostly seen in trousers, T-shirts and blouses with NO shape. I had the worst wardrobe of all my friends. This changed when I had my own breast augmentation and my secret dream came true to fill out those feminine dresses I had always wanted.
I had very short and difficult breastfeeding periods with both my sons in 1996 and 2000. My size deflated even more and the flesh of my breasts became softer with less rounded firmness. I started envying women with more than a handful-sized boobs. It was the first thing I ever looked at when paging through magazines, watching TV, just everywhere! And knowing mine would one day be totally flat against my chest when lying down. Perception of myself in photos started to change.
"I had some swelling; some pain; some tightness; some discomfort but NO REGRET."
I separated with my husband in January 2009 and later divorced – being a lover of sex and physical intimacy, I was worried sick over meeting new men and having to remove a well padded bra.  But more than this, getting older made me want that feminine feeling more than anything and I embarked on my exhaustive research and boob-shape hunt.
Why did you decide on Aurora Clinics and Mr Richards?
Feeling very nervous about the expense of surgery, I visited and paid for 2 consultations before finally deciding on Mr Richards to do my surgery because he and his team came very highly recommended by a friend. The glorious beginning of the next chapter of my life as a woman.
My sons had been supportive of my decision to have surgery from the start but hoped that I was going for a sensible size, which I did at 300cc, with the amazing direction and guidance from 'right hand' to Mr Richards, Aggie Oakley.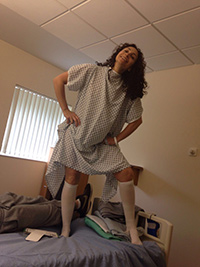 How did you feel prior to your surgery?
In  preparation, I stopped all pills and alcohol for 4 weeks prior to surgery and managed to eat healthily losing a little weight too.
I felt totally confident without a shadow of doubt that I was finally ready for boob surgery, 6 days before my 48th birthday. Forgot my woes about needles and cutting and on the day I embraced the detailed conversation, prior to surgery, with Mr Richards. He checked that I was still going for the 300cc and asked how I felt.
And how did you feel after the surgery?
I had some swelling; some pain; some tightness; some discomfort but NO REGRET, except that I should have done it years ago! I had the left breast marginally smaller than the right breast to start with and whilst my surgery was not designed to remedy this small issue, to the naked eye, they look like a matching pair.
The Shelbourne was perfect as well. So pleased that I stayed over for the night, not wanting to put pressure on my sons to monitor me through the night.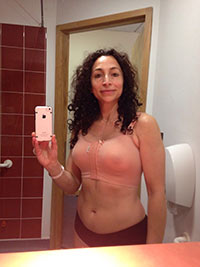 The tighter the post-surgery bra, the more comfortable I felt and kept them on for longer than I needed to and I did sleep sitting slightly upright for much longer than I needed to. I was going to do everything by the book, including no exercise for a good number of weeks after surgery. 2 weeks off work to relax and recover was enough, by then being happy to be behind the wheel as well.
I have honoured all my check-ups to date with Mr Richards and his 'A' team, Aggie and all, and over the past 7 months have enjoyed the journey of watching my breast shape settle and rest into what I think looks like natural curves, at a sensible size 34C.
Now for a happy and positive approach to shopping when the occasion arises – all those dresses and non-padded bras!
Thanks for putting up with all my questions and constant pestering Mr Richards, I am absolutely ecstatic with my result!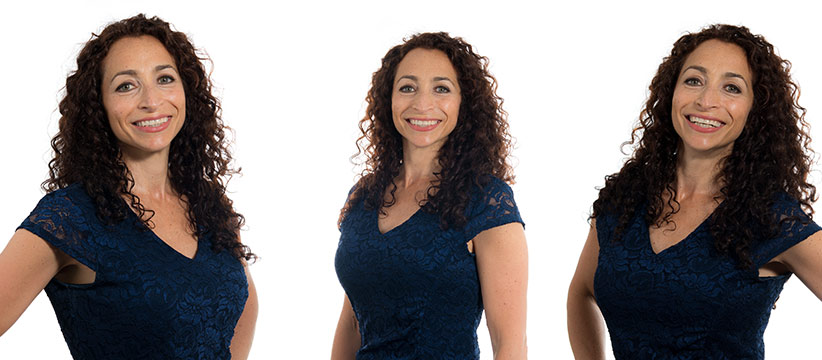 More information on Breast Enlargement Surgery
All images, videos and testimonials are based on the personal experiences of our patients and represent individual body shapes and results. Please bear in mind that results may vary from person to person. All testimonies are provided voluntarily by our patients and clients. Their comments have not been altered in any way, and their experiences are their own.