Genuine Dermaroller™ Treatment: Explained by Aurora Expert Ruth Atkins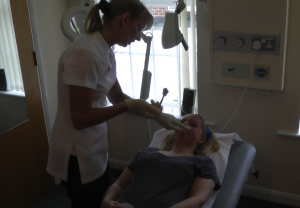 Spotlight on: Genuine Dermaroller Therapy™ by Aurora Clinics Expert Ruth Atkins (Registered General Nurse & Aesthetic Practitioner)
Ruth recently joined the team at Aurora Clinics after developing her non-surgical career. She is an experienced Registered General Nurse certified in performing dermal fillers, wrinkle relaxing treatments and Genuine Dermaroller Therapy™.  Ruth enjoys making a positive difference in the lives of her patients. She is passionate about aesthetics and has a keen eye for detail.   
Ruth says: "Dermaroller is a treatment that I really feel passionate about. It''s suitable for almost everyone and an excellent treatment for so many skin problems:
acne scarring
fine lines
wrinkles
sun damage
pigmentation
stretch marks.
Dermaroller can be used on the face, décolletage, hands and body. Having had the procedure myself, I was amazed that after only one treatment not only had my skin improved in texture and appearance but my chicken pox scars had disappeared too!
It''s quick and straight-forward with minimal downtime. After applying local anaesthetic cream, the face is rollered with medical micro needles in order to stimulate collagen development and natural skin regeneration.
The results speak for themselves: after all, Dermaroller is fast becoming the celebrities' treatment of choice!
Please do remember, though, that Dermaroller should only ever be performed by trained medical practitioners at authorised clinics."
For more information about any of the treatments mentioned in this article, please contact us on 01324 578290 or mailto:info@aurora-clinics.co.uk . Alternatively, Book your consultation with Ruth at Aurora Clinics, Princes Risborough, to get started straight away!