3 ways Permalip lip enhancement can make you look younger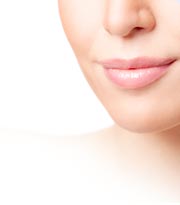 Aurora as part of The Private Clinic no longer offers the Permalip Lip Enhancement procedure.
Aurora is now part of The Private Clinic, a nationwide group of clinics with over 35 years of experience specialising in Cosmetic Surgery and Skin and a Trust Pilot 5 star rating. For comprehensive information, before and after photos and costs on Dermal Lip Filler procedures click here
Our clinics are located in Birmingham, Bristol, Buckinghamshire, Glasgow, London Harley Street, Leeds, Manchester and Northampton.
We all know that when it comes to beauty, the eyes have it. A perfect pair of peepers has the power to elevate an ordinary face into something extraordinary.
But we often underestimate the area around the mouth (peri-oral area) when it comes to facial attractiveness. Particularly when it comes to anti-ageing.
Most anti-ageing treatments focus on lifting and tightening the skin. And while firming up sagging jowls, cheeks and eye bags can have an impressive rejuvenating effect, if the lips are thin ('atrophic' in the medical world), it can be a dead giveaway of a person's age.
How lip enhancement helps with anti-ageing
There are three main changes that occur to the lips over time. And happily, all of them can be addressed with lip enhancement. Here's how permanent lip enhancement can reverse the effects of ageing on the lips:
1. Shortening the upper lip

As we age, the area of skin above the upper lip lengthens, making the lip turn inwards. This means that less of the pink (vermilion) of the lip is on show, which can leave a mouth looking 'mean' and aged.
Enhancing the upper lip helps to rotate the lip outwards again to give it back its youthful prominence.
2. Lifting downturned mouth corners

As volume is lost with age, the corners of the mouth tend to droop – contributing to an unfortunate mean, grumpy or sad look, even while you may be feeling perfectly happy inside.
Replacing lost volume in the outer edges of the lips helps reverse this droop.
3. Plumping out wrinkles on the lips

Again as volume is lost, the same amount of skin is covering a smaller area. The inevitable result is creases and wrinkles on the lips (imagine a deflating balloon). These so-called smokers' lines happen even to non-smokers, and can leave the lips looking 'pursed'.
Adding volume to the lips exerts more outward pressure on the skin, smoothing out the area and making lips plump and wrinkle-free.
Why choose Permalip over lip fillers?
All the above can be addressed with either injectable lip fillers or Permalip lip implants. But if you're thinking about lip enhancement, there are definite advantages to choosing Permalip.
Though it can always be reversed if you change your mind (just like breast implants), treatment with Permalip is essentially permanent. Once you've had it, there's no need to keep coming back for injections, with the associated expense and discomfort.
The results are more predictable than those from lip fillers, as you can choose your exact size of implants from the outset, and that's how they'll stay. Your new lips become part of you. They're yours for ever, never changing from month to month, year to year.
And if cost-effectiveness is a consideration for you, Permalip comes out on top too. Once you've had injectable lip fillers 3 or 4 times, you've paid the same it would cost you to have Permalip surgery for a permanent result.
Take a look at our Permalip before and after photo gallery to see the kind of results you can expect from Permalip.
Find out more about Permalip
Considering Permalip Lip Enlargement surgery?
We no longer offer the Permalip Lip Enhancement procedure. Please see information above for Dermal Lip Filler treatments.