Cosmetic surgery trends for 2014 revealed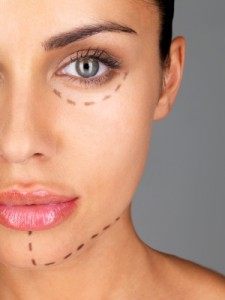 Cosmetic surgery trends are big news every year, and 2014 was no different.
This year saw frenzied speculation about Hollywood star Renee Zellweger and her seemingly altered eyes. And 'Britain's vainest man' Sam Barton raised hackles with details of his NHS nose job worth £5,000.
But which cosmetic procedures made the biggest shakes in 2014?
Cosmetic clinic finder site WhatClinic.com have just made public their top cosmetic surgery trends of the year. And what was the most popular enquiry? Surprisingly not breast enlargement, but rhinoplasty ('nose job').
2014 cosmetic surgery trends
The site reported that enquiries for open rhinoplasty rose by a massive 1,200% in 2014. This technique sees the surgeon make an incision at the base of the nose between the nostrils and peel back the skin to open up the nose, allowing easy access to the nasal bones.
Enquiries for the less-invasive nasal tip surgery also saw a huge increase of 763%, making it a busy year for nose surgery in general.
Staying with facial surgery, Ms Zellweger's alleged procedure of choice, eyelid surgery (blepharoplasty), saw enquiries leap up by 578% over the year.
But it wasn't all faces. Enquiries from people seeking beautiful bodies also saw big increases.
As ever, body reshaping procedures proved popular. Though liposuction was already one of the UK's most requested procedures, enquiries still rose by 69% in 2014. Fat transfer and tummy tuck (abdominoplasty) also saw significant increases (up 166% and 68% respectively).
How Aurora Clinics enquiries are growing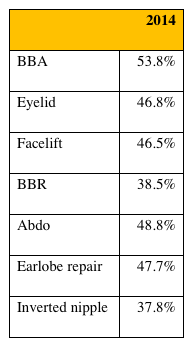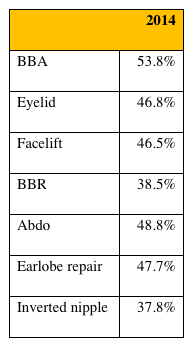 In our own clinics too, we saw huge increases in 2014 compared to the previous year (see chart, right).
As you can see, all procedures saw significant increases on 2013, but in particular breast enlargement, with more than one and a half times the enquiries we received last year.
But what will we see in 2015?
As a relatively new and dynamic industry, cosmetic surgery develops and grows each year. With technical advances happening all the time, and ever more people looking into surgery, what cosmetic surgery trends are we likely to see in 2015? How will the aesthetic landscape change?
We'll do our best to keep you up to date with any new treatments and exciting developments we see in the industry. Why not join us over on our Facebook page, or give us a follow on Twitter?
Aurora Clinics are a nationwide cosmetic surgery group with clinics throughout the UK. Our team of BAAPS-registered surgeons offer consultations for the full range of cosmetic and plastic surgery procedures, plus a wide range of non-surgical treatments. For information on any procedure, or to book an appointment, please call us on 01324 578290 or email mailto:info@aurora-clinics.co.uk.