Ruth Atkins
Aesthetic Nurse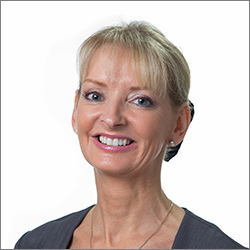 Ruth began her nursing career in 1981 at Leeds General Infirmary, where she specialised in surgery, burns and plastic surgery.
She went on to develop a career in Aviation Medicine, where she worked as a trainer on courses for both Private and Commercial Aviation. She has offered training in Basic Life Support, defibrillation and bespoke first aid both privately and for the European Resuscitation Council for over 20 years.
A long-standing interest in aesthetics led her to join the team at Aurora Clinics as an Aesthetic Nurse Practitioner. Here she assists Mr Adrian Richards during his clinics as well as offering non-surgical injectable treatments for our sister company Aurora Skin Clinics.