What is a Brazilian Tummy Tuck?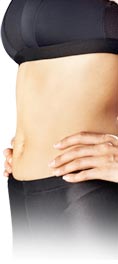 Aurora is now part of The Private Clinic, a nationwide group of clinics with over 35 years of experience specialising in Cosmetic Surgery and Skin and a Trust Pilot 5 star rating. For comprehensive information, before and after photos and costs on Tummy Tuck procedures click here
Our clinics are located in Birmingham, Bristol, Buckinghamshire, Glasgow, London Harley Street, Leeds, Manchester and Northampton.
As its name suggests, the Brazilian Tummy Tuck started life in Brazil. Originally developed in 2001 by Sao Paulo surgeon Dr Osvaldo Saldhana as a modification of the traditional tummy tuck, it has quickly gained popularity among surgeons worldwide.
The technique, also known as lipoabdominoplasty, has several advantages over the traditional approach. Namely a lower complication rate, better wound healing, less down time and often more satisfying results.
What does the Brazilian Tummy Tuck involve?
The technique essentially combines liposuction with a tummy tuck. For this reason, it's best used where there is more excess fat than skin. The layer of fat in the tummy is first removed using liposuction and the skin is then stretched down to tighten the area.
Because of the liposuction involved in the Brazilian tummy tuck, the skin can't be tightened quite as much as with a traditional tummy tuck. But it can still remove just as much skin as a standard tummy tuck – from above the umbilicus to the top of the pubic area. As an added bonus, the rectus abdominus muscles (responsible for the 'six pack') are tightened too.
As with a traditional abdominoplasty, the technique is performed under general anaesthetic and requires a two-night hospital stay.
How does the scarring compare?
There is no real difference between the techniques when it comes to scarring. For every patient who undergoes tummy tuck, the main determinant of how well or how poorly the scars will heal is genetics.
If you are somebody who generally heals slowly or poorly, or has poor quality tissues, unfortunately you will tend to have a poor scar. If you usually heal well, you are likely to have a good scar. Good wound care in the period following surgery is very important, and will help the scar heal as neatly as possible.
If you would like more information on the Brazilian Tummy Tuck, or to book a consultation to discuss the procedure with a Surgeon, please call us on 01324 578290 or email mailto:info@aurora-clinics.co.uk.