Tackling 'man boobs' – do you need Gynecomastia surgery, or will exercise do it?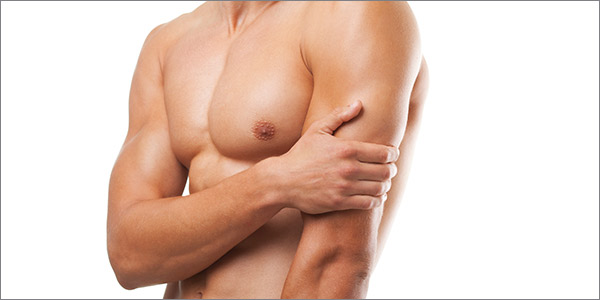 Aurora is now part of The Private Clinic, a nationwide group of clinics with over 35 years of experience specialising in Cosmetic Surgery and Skin and a Trust Pilot 5 star rating. For comprehensive information, before and after photos and costs on Male Chest Reduction procedures click here
We have clinics located in Birmingham, Bristol, Buckinghamshire, Glasgow, London Harley Street, Leeds, Manchester and Northampton.
At our clinics, we see certain procedures getting more popular every year. And one that's seeing big increases is Gynecomastia surgery, or male breast reduction. 
If you're a man unhappy with your chest and have been thinking about surgery to treat it, now's a great time of year to go ahead.
Shirts will be staying firmly on for the next few months, so you'll be recovered nicely by the time the warmer weather rolls around.
But before taking the plunge, you'll want to know if you really need Gynecomastia surgery, or there's a chance you can get rid of the problem yourself.
Do I need surgery or could exercise and diet reduce my man boobs?
It really depends on whether or not you have true Gynecomastia. Man boobs can be caused by fatty tissue, glandular tissue, or a combination of both.
If it's mostly fat, your chest should respond well to diet and exercise. And let's face it, hitting the gym and cutting back on takeaways is a better option than surgery. So if you're carrying extra weight, losing some should be your first port of call.
But if you're in shape and still have man boobs, the chances are it's glandular. And this is true Gynecomastia.
Glandular tissue is a white, rubbery substance that develops in the male chest. It's usually a result of puberty or hormonal imbalances. But it can also be caused by using marijuana, certain medications and, commonly, anabolic steroids – hence the reason Gynecomastia occurs quite often in bodybuilders.
If your Gynecomastia is glandular, the bad news is that exercise can actually make the problem worse. This is because stronger chest muscles push out the glandular tissue, making the 'pointiness' of the chest more prominent.
So if you've tried to shift your man boobs and found that – if anything – they've got worse as you've got fitter, you're going to need surgery to treat them.
Surgical treatment usually combines liposuction of the chest area with glandular tissue removal through the areola. You can find out more detailed information about the Gynecomastia procedure on our dedicated page.
Could my man boobs come back after surgery?
Generally Gynecomastia surgery will rid you of man boobs permanently – providing you keep your weight stable and don't fall back into the same habits that gave you them in the first place.
Just like women who have breast reduction, there's always the risk of compromising your results, so you have to make some effort to maintain them.
Having undergone surgery, you'll probably decide that using steroids, marijuana, or whatever caused the problem in your case is just not worth it.
Most patients feel this way, and consequently enjoy permanent results. But even if the problem does recur at a later date, it's possible to have repeat surgery to treat it.
I want to go ahead. How can I finance my surgery?
The price of Gynecomastia surgery can vary, depending on the technique needed in your specific case. At our clinics, the procedure costs from £3,865 – £5,840. If you don't have the full amount saved, but are keen to have surgery as soon as possible, most clinics offer payment plans to help you spread the cost and make it more affordable.
At Aurora, we have a partnership with specialist medical loans company, Pay4Later, to offer flexible finance plans to our patients. You can choose to pay for your procedure over 1, 2, 3 or 5 years with an initial deposit of only £500.
Find out more about our cosmetic surgery finance and see if it could be a good option for you.
Aurora Clinics are a nationwide cosmetic surgery group with an experienced team of specialist Plastic Surgeons. We offer Gynecomastia surgery at clinics throughout the UK. If you'd like to book a consultation with one of our surgeons, please call us on 01324 578290 or email mailto:info@aurora-clinics.co.uk.